Burntside Lake, Minnesota, USA
Lake Locations:
USA - Midwest - Minnesota - Northeast -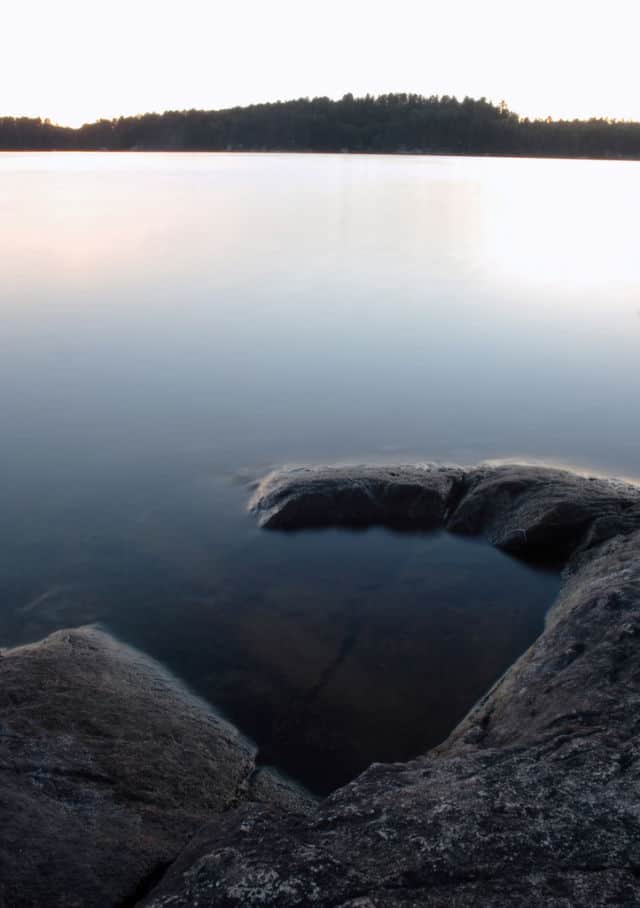 Burntside Lake is an impressive nine-mile long lake in St. Louis County, Minnesota. With a surface area of 7,314 acres and no motor restrictions, Burntside Lake is an extremely popular destination for water sports enthusiasts, many of whom are positively addicted to water skiing, boating and wake boarding.
Situated in the Vermillion drainage basin and the state's Northeast tourism region, Burntside Lake is so incredibly clear that visibility has been known to reach as high as 20.67 feet. Boundless crystal blue waters, rocky riprap shorelines and over 150 picturesque islands provide an infinite number of exciting places to explore. A rock dam at the lake's outlet controls the flow of water into Shagawa Lake.
Burntside Lake's largest 43-acre island, aptly named Long Island, along with its smaller subsidiary islets has been considered a protected part of the Superior National Forest since 1998. The islands are essential nesting grounds for flocks of osprey and great blue heron. Burntside Lake is additionally home to one of the largest populations of loons in the state of Minnesota.
While Burntside Lake is widely known for its excellent trout and walleye fishing, smallmouth species are also prominent. Northern pike, rainbow smelt, and rock bass are additionally present, as well as yellow perch. In addition, trout have been stocked here for nearly a century – a practice beginning as far back as 1912.
Facilities at Burntside Lake include numerous boat ramps, soft sandy beaches and inviting picnic facilities. Real estate and vacation rentals are available. Many vacation rentals are extravagantly furnished with luxuries like satellite TV and orthopedic mattresses.
The Boundary Waters Canoe Area Wilderness (BWCAW) can be found just a short drive from Lake Burntside. This protected zone contains over 1,500 miles of scenic canoeing and kayaking trails – the most popular being Bass-Dry-High Lakes (3 miles), Fenske-Sletton-Tee-Grassy-Low-Bass lakes (3 miles), Burntside-Dead River-Twin Lakes-Everett (11 miles) and the Hunting Shack River (4 miles).
Several glacial bodies of water ranging in all sizes surround Burntside, including Crab, Shagawa and Wolf Lakes. Just beyond Burntside Lake and the Boundary Waters Canoe Area Wilderness lies the Canadian Quetico Provincial Park, a reserve straddling the US-Canadian border. This park is known for its gorgeous trails and forests that somehow seem to stretch into infinity.
A few minutes from Burntside Lake, the Soundan Underground Mine simply cannot be missed. Visitors descend down a thrilling 2,341-foot drop in a cage, followed by a rail car ride along a seemingly ancient mine shaft. For those afraid of heights, fascinating aboveground exhibits like a drill shop and engine house will keep you engaged for hours. Guided tours last about an hour and a half.
Another phenomenal attraction near Burntside Lake is the International Wolf Center in Ely, an enormous facility devoted to preserving wolf populations – and to educating the public about their plight.
You'll find the city of Ely just a few miles southeast of Burntside Lake; while this modern municipality is just as connected to the outside world as the any other city, it manages to maintain an unwavering emphasis on outdoor activities. Popular nearby hiking trails include Bass Lake, Trezona, Secret/Blackstone, Snowbank Lake, Angleworm, and Hidden Valley Trails. Most paths are perfect for mountain biking and even horseback riding. Blueberry picking, hunting, and golfing are a few of the area's many other open-air attractions. In addition, dog-sledding and ice fishing can be enjoyed during the winter, along with snowmobiling and cross country skiing.
No matter what time of year, the peaceful countryside at Burntside Lake's provides a much needed respite from the high-paced rhythm of typical urban life. Picture yourself tanning on a sun kissed beach along the coast during the summer, and bundled up by your new cabin's crackling fire in the midst of a chilly Minnesotan winter.
Things to do at Burntside Lake
Vacation Rentals
Fishing
Ice Fishing
Boating
Swimming
Beach
Canoeing
Kayaking
Water Skiing
Wakeboarding
Golf
Picnicking
Cabin Rentals
Hiking
Biking
Cross-Country Skiing
Snowmobiling
Dog Sledding
Horseback Riding
Hunting
Birding
Provincial Park
National Forest
Fish species found at Burntside Lake
Bass
Northern Pike
Perch
Pike
Smelt
Sunfish
Trout
Walleye
Yellow Perch
---
Burntside Lake Photo Gallery
Burntside Lake Statistics & Helpful Links
Spread the word! Share our Burntside Lake article with your fellow Lake Lubbers!