Broken Bow Lake, Oklahoma, USA
Lake Locations:
USA - Southwest - Oklahoma - Kiamichi Country -
Also known as:  Broken Bow Reservoir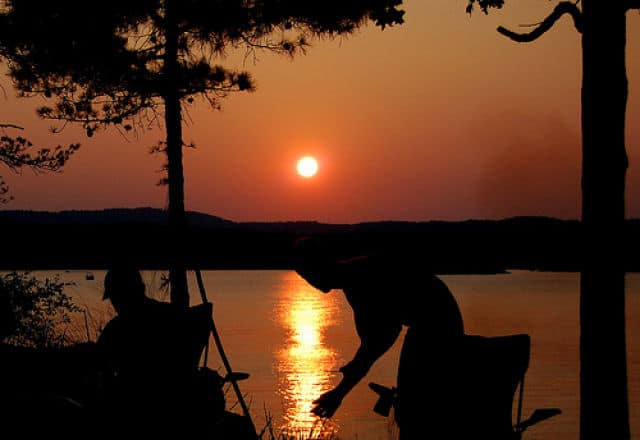 Broken Bow Lake is nestled in the Ouachita Mountains of McCurtain County in southeastern Oklahoma. Covering more than 14,200 acres with 180 miles of shoreline, 22-mile long Broken Bow Lake is considered one of the most beautiful lakes in the southern United States. The area is referred to as Oklahoma's "Little Smokies" due to the densely forested mountainous terrain.
The Broken Bow Lake area is rich in Native American history. The area, now McCurtain County, became part of the Choctaw Indian Nation in 1820 after a treaty was signed by the Federal Government and the Choctaw tribe. McCurtain County was named after a prominent Choctaw Indian family whose father and three sons served as chief of the Choctaw Indian Nation. Additionally, the Ouachita Mountains got their name from the Choctaw's word for hunting trips, "Owa-chita."
Broken Bow Lake was authorized by the Flood Control Acts of 1958 and 1967. Construction of the Broken Bow Dam on the Mountain Fork River commenced in 1961, and the project went into full operation in 1969. Broken Bow Reservoir provides for hydropower generation, flood control, water supply, and public recreation. Old Hochatown, settled by the Choctaw Indians in the 1830's, was flooded by impoundment of the river's waters. The lake and nearby town of Broken Bow, center of Oklahoma's timber production, were named after Broken Bow, Nebraska, former hometown of a pioneer lumber family.
Today, Broken Bow Lake offers visitors unlimited recreational opportunities, including boating, water skiing, fishing, camping, wildlife viewing, hiking, biking, horseback riding, picnicking, canoeing and kayaking. Anglers are challenged by deep lake waters, with an average depth of 62 feet and a maximum depth near 185 feet. The best fishing locations for largemouth bass and spotted bass are rocky points, timber, creek channels, and brush fish attractors. Other fish species include black crappie, channel catfish, flathead catfish, smallmouth bass, and redear sunfish. The Mountain Fork River below the dam offers year-round fishing for rainbow trout and brown trout.
Broken Bow Lake is surrounded by Beavers Bend State Park, Hochatown State Park, and the Ouachita National Forest. Hochatown State Park wraps around the western shore of Broken Bow Lake. Accommodation offerings range from Lakeview Lodge, to RV campsites (Stevens Gap, Carson Creek and Cedar Creek areas), to primitive campsites. Recreation amenities include a swimming beach, lighted boat ramps, fish cleaning station, backpacking and hiking trails, group shelters and picnic sites, playgrounds, and an 18 hole golf course with pro shop.
Beavers Bend State Park is located on a cypress-lined bend of the Mountain Fork River below Broken Bow Dam. Lodging choices include cabins (some with river views) and two group camps. Beavers Bend provides numerous recreational amenities: boat ramps, biking trails, tennis and volleyball, trout fishing, nature center activities, river float trips, miniature golf, paddleboats, bumper boats, canoeing, horseback riding, hayrides, and train rides. The park hosts the Owa-Chito Festival of the Forest in June, the Beavers Bend Folk Festival in November, eagle watches from November through February, and fly fishing clinics November to April.
Beavers Bend State Park is also a popular birding destination. April and May are peak birding months, when most of the resident and migrating species are present. Approximately 130 bird species have been identified, including about 25 species of warblers. The Tulsa Audubon Society has conducted Christmas Bird Counts since 1960. The winter list of about 60 species includes Black Vulture, Bald Eagle, Hermit Thrush, Brown Thrasher, Winter Wren, and Pine Warbler. Rarely included are the Red-cockaded Woodpecker, Brown-headed Nuthatch, Rock Wren, Red Crossbill, and Evening Grosbeak.
The Broken Bow Public Hunting Area encompasses 5,420 acres. The forested terrain provides habitat for deer, wild turkey, and squirrel. No hunting is permitted in the 14,087-acre McCurtain County Wilderness Area.
Broken Bow Lake beckons outdoor enthusiasts to the scenic Ouachita Mountains of southeastern Oklahoma. Set your GPS today to this recreation mecca.
Things to do at Broken Bow Lake
Vacation Rentals
Fishing
Boating
Swimming
Beach
Canoeing
Kayaking
Water Skiing
Golf
Tennis
Camping
Picnicking
Cabin Rentals
Hiking
Biking
Horseback Riding
Hunting
Wildlife Viewing
Birding
State Park
National Forest
Playground
Miniature Golf
Fish species found at Broken Bow Lake
Bass
Black Bass
Black Crappie
Brown Trout
Catfish
Channel Catfish
Crappie
Flathead Catfish
Largemouth Bass
Rainbow Trout
Redear Sunfish (Shellcracker)
Smallmouth Bass
Spotted Bass
Sunfish
Trout
---
Broken Bow Lake Photo Gallery
Broken Bow Lake Statistics & Helpful Links
Spread the word! Share our Broken Bow Lake article with your fellow Lake Lubbers!