Bowman Haley Lake, North Dakota, USA
Also known as:  Bowman-Haley Lake
Welcome to the ultimate guide for history, statistics, local fun facts and the best things to do at Bowman Haley Lake.
If you're considering Bowman Haley Lake vacation rentals, we've made it super easy to explore accommodations and nearby hotels using the interactive map below. Simply click on a listing to compare similar properties, best rates and availability for your dates. Or keep scrolling to read our Bowman Haley Lake guide!
Bowman Haley Lake visitor and community guide
Bowman Haley Lake, located in Southwestern North Dakota, was once a Sioux hunting ground. Bowman Haley Lake is now a 1,740-acre lake surrounded by rolling grasslands. Year-round recreational opportunities include camping, fishing, hunting, boating, and picnicking.
Bowman Haley Lake, which is owned by the U.S. Army Corps of Engineers, was created by impounding the North Fork Grand River. Construction of Bowman Haley Dam was completed in 1970 and was designed for flood control, municipal and industrial water supply, fish and wildlife management, and recreational purposes. The dam stretches 5,730 feet long and is 79 feet from the stream bed to the top of the dam.
In recent years the Watershed Board and a local Anglers Club have worked together to enhance the beauty and accessibility of the lake. A tree farm has been established to provide trees around the lake, in addition o the thousands of trees already planted. After Christmas each year the Anglers Club collects discarded evergreens and throws them into the lake to provide fish habitat. Fish such as brown trout and rainbow trout, channel catfish, largemouth bass and smallmouth bass, northern pike and walleye all make their home in Bowman Haley Lake, and anglers enjoy a chance at trying to catch their share of fish. Each year Bowman Haley Lake offers a free fishing day sponsored by the Tri-State Peace Officers Organization. During the first weekend of June, about 1,000 youth and adults come out to participate in the free fishing day. The upkeep of Bowman Haley Lake has also resulted in an increase in the deer population, making the lake area an excellent place to hunt.
There are three recreation areas at Bowman-Haley Lake: North Shore, South Shore, and the Point. All three recreation areas have a picnic area, while only North Shore has a camping area. Both North and South Shore have boat ramps.
For visitors who would like to do some local sightseeing, the nearby town of Bowman is the place to visit. Bowman County is the home of Pioneer Trails Regional Museum. It is open year round and is a regional research and repository for history within 100 miles of Bowman. The museum also displays art from local artists as well as traveling displays. One of the main attractions of the Pioneer Trails Regional Museum is their one-day field tours. Visitors can spend the day with museum personnel to search for and collect specimens for the museum. Visitors will be allowed to dig in certain sites, but all artifacts collected will remain with the museum. These tours give individuals opportunities to experience the life of a paleontologist.
Because Bowman Haley Lake borders South Dakota, Custer National Forest is an easy day trip. The Sioux Ranger District of this 1.2 million acre national forest is located in northwestern South Dakota and southeastern Montana. Year round recreational activities include hiking, horseback riding, mountain biking, snowmobiling, and cross-country skiing. Although this District does not have designated hiking trails, the open ridges provide breathtaking panoramic views. The District also includes two National Landmarks. "The Castles," in the Slim Buttes Unit of South Dakota, is a massive limestone structure that resembles a medieval castle. "Capitol Rock," in the Long Pines Unit of Montana, is a limestone structure that resembles the Capital building in Washington, DC.
North Dakota's Theodore Roosevelt National Park, referred to as The Badlands, is an easy day trip north of Bowman Haley Lake. The Little Missouri River flows through this 70,448-acre park. The South Unit offers a 36-mile scenic drive starting at Medora, an "Old West" style town. Visitors are frequently treated to sightings of grazing bison along this scenic drive. The South Unit also provides two campgrounds: Cottonwood and Roundup. Cottonwood Campground accommodates tents, trailers, RVs, and a group campsite. Roundup Campground accommodates groups with or without horses.
Upon returning from area day trips, visitors can enjoy a cool refreshing swim or an exciting boat ride in Bowman Haley Lake. Lake visitors will not be disappointed with all the beauty and fun activities Bowman-Haley Lake has to offer.
Custom Bowman Haley Lake house decor
Read our full review of these personalized lake house signs.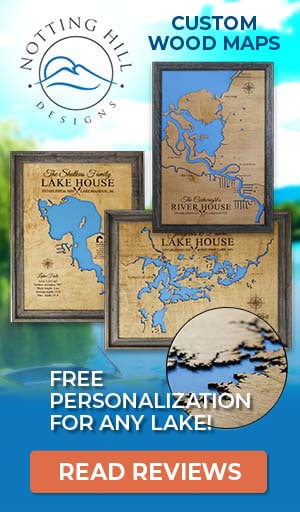 Things to do at Bowman Haley Lake
Fishing
Boating
Swimming
Camping
Campground
Picnicking
Hiking
Biking
Cross-Country Skiing
Snowmobiling
Horseback Riding
Hunting
Wildlife Viewing
National Park
National Forest
Museum
Fish species found at Bowman Haley Lake
Bass
Black Bass
Brown Trout
Catfish
Channel Catfish
Largemouth Bass
Northern Pike
Perch
Pike
Rainbow Trout
Smallmouth Bass
Trout
Walleye
---
Best hotels and vacation rentals at Bowman Haley Lake
The Bowman Haley Lake map shown above is a simple and stress-free way to search for trip accommodations. But if you want to take a deeper dive to find the ideal waterfront home, cabin, condo, hotel or resort, visit our favorite lodging partners by clicking the buttons below.
Note: These are affiliate links so we may earn a small commission if you book through them. While there is no extra cost to you, it helps provide resources to keep our site running (thank you)! You can read our full disclosure policy here.
---
Bowman Haley Lake photo gallery
New photos coming soon!
Bowman Haley Lake statistics & helpful links
We strive to keep the information on LakeLubbers as accurate as possible. However, if you've found something in this article that needs updating, we'd certainly love to hear from you! Please fill out our Content Correction form.
Advertise your Bowman Haley Lake vacation rental
LakeLubbers will soon offer homeowners and property managers the opportunity to to showcase their vacation rentals to the thousands of lake lovers searching our site daily for accommodations. If you'd like additional details, please contact our advertising team here.
Looking for the Bowman Haley Lake forum?
LakeLubbers previously offered visitors the ability to create accounts and participate in lake forums. When we overhauled the site's content management system in 2021 we had to disable those features. We're evaluating options and welcome your comments and feedback here.
We also encourage you to join our lake-lovin' community on Facebook and Instagram!
Spread the word! Share our Bowman Haley Lake article with your fellow Lake Lubbers!