Bow Lake, New Hampshire, USA
Lake Locations:
USA - New England - New Hampshire - Lakes Region -
Also known as:  Bow Lake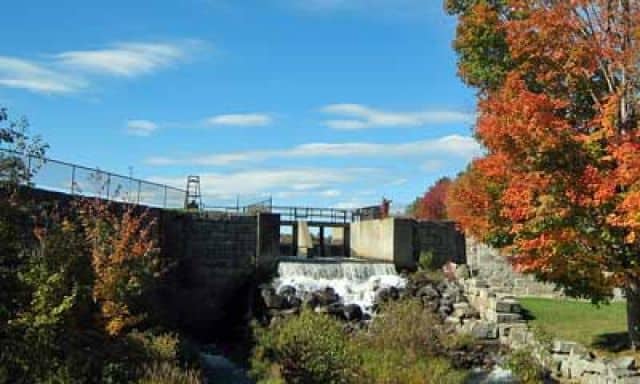 New Hampshire's Bow Lake is located about 30 miles south of better-known Lake Winnipesaukee in the state's Lakes Region. Bow Lake has its own special set of charms that endears it to residents and visitors alike. A part of colonial New Hampshire history, the lake gradually came into being when a series of water-powered mills were built at the outlet to small Bow Pond in the 1700s. Although the date the current dam was built isn't clear, the newer dam nearly doubled the size of the lake, leaving several islands dotting the surface. Bow Lake originally was used as a water supply reservoir but now mostly serves recreational purposes. Its wooded shores and many small bays and coves impart a natural wilderness atmosphere to the lake's seven miles of shoreline. The original Bow Pond Stream is now renamed the Isinglass River, a tributary to the Cocheco River.
Many areas of Bow Lake are shallow, making the launching of boats tricky for those unaccustomed to the lake's underwater topography. Rocks just below the surface in some areas can't be seen when the wind is up and the water choppy, so local advice should be sought by those unfamiliar with the lake. A public boat launch is located in Nay Lake Village at the southeast end of the lake. Several inhabited islands offer sheltered moorings and excellent fishing along the drop-offs. The parking area for the boat ramp is small and quickly becomes full on good fishing weekends. The longer, open reach of the 1,150-acre lake invites water skiers, wake-boarders and sailors, while the irregular shoreline attracts kayakers and canoeists. The Bow lake Camp Owners Association educates visiting boaters as to the threat of invasive species and the need to take preventative measures against such interlopers. The Bow Lake Yacht Club holds regular Sunday sailboat races on the lake for its members and assists with sailing education efforts. Water levels are drawn down in winter about four feet to prevent ice damage.
Fishing is a favored sport at Bow Lake. Best known for smallmouth bass, the lake also holds yellow perch, chain pickerel, pumpkinseed, American eel, American smelt, rainbow trout, lake trout, white perch and brown trout. Careful management of fish stocks allows New Hampshire Fish and Game to determine a fish planting schedule nearly guaranteed to produce excellent fishing. Ice fishing is popular in winter once the lake has frozen well enough to be safe. One of the islands on the western edge of the lake is a known nesting location for both loons and bald eagles. Local residents are very protective of their resident loons and eagles, and community newsletters often carry an update on how nesting and chick-rearing is progressing with repeated warnings that they must not be disturbed.
Bow Lake lies mostly within the town lines of Strafford, with some facilities near the dam. A public beach is maintained there, with lifeguards and basic picnic amenities. Admission is free for local residents; visitors pay a nominal fee. Few services are available locally at Bow Lake Village with the exception of the Bow Lake Grange Hall and its caretakers, the Bow Lake Community Club. Grange Hall was built in 1829 as a steam-powered mill. Today, it serves as a community center and site of regular events, fund-raisers and entertainment. The Lakeside Players, a local theater group, performs there regularly.
The larger City of Rochester is about ten miles to the east and offers all types of services, shopping and supplies. Along with a nice selection of dining options and lodgings, Rochester also boasts the Rochester Opera House with the only surviving 'moving floor' known to exist in working order. Built in 1908, the building has been lovingly restored to its original glory, including Art Deco murals and stenciling. An online video shows how the floor, using the original mechanisms, moves from a horizontal position for dances and events to a slanted amphitheater, still with the original wrought-iron seating. The Opera House still does duty as a performance venue for local stage productions and community events.
No camping or commercial lodgings exist on Bow Lake's shoreline, although several historic inns are still greeting visitors nearby, some within walking distance. Campgrounds, guest cottages and small motels can be found close by, and a number of private owners directly on Bow Lake rent their properties on a short-term basis. For those who like hiking and nature observation, Northwood Meadows State Park is only five miles to the south. The 675-acre state park is a wealth of trails through woods and extensive wetlands, perfect for nature hikes and cross-country skiing. Two areas of local 'town woods' near Bow lake offer small plots of public lands for picnicking and exploration. Winter visitors often enjoy the convenience of Gunstock Mountain ski facilities near Lake Winnipesaukee. It's easy to see why real estate at Bow Lake is in high demand. No visit to New Hampshire is truly complete without a day at Bow Lake and its environs. You'll fall in love with the solitude, great water sports and excellent fishing.
Things to do at Bow Lake
Vacation Rentals
Fishing
Ice Fishing
Boating
Sailing
Swimming
Beach
Canoeing
Kayaking
Water Skiing
Camping
Campground
Picnicking
Hiking
Cross-Country Skiing
Birding
State Park
Shopping
Fish species found at Bow Lake
Bass
Black Bass
Brown Trout
Chain Pickerel
Eel
Lake Trout
Perch
Pickerel
Pike
Pumpkinseed
Rainbow Trout
Smallmouth Bass
Smelt
Sunfish
Trout
White Perch
Yellow Perch
---
Bow Lake Statistics & Helpful Links
Spread the word! Share our Bow Lake article with your fellow Lake Lubbers!