Benbrook Lake, Texas, USA
Lake Locations:
USA - Southwest - Texas - Prairies and Lakes -
Also known as:  Lake Benbrook, Benbrook Reservoir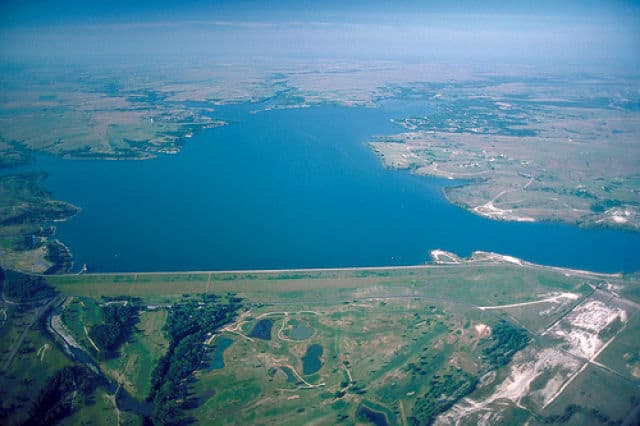 Sprawled along the Clear Fork branch of the Trinity River in the Texas Prairies and Lakes region, Benbrook Lake works hard to improve the quality of life for area residents and visitors. The 3800-acre reservoir was created by the US Army Corps of Engineers to alleviate repeated catastrophic flooding in downtown Fort Worth. After several major flooding events, construction was begun in 1947 and completed in 1952. The first complete filling of the reservoir occurred in 1957 when the new dam prevented multi-millions in property damage by containing a potential flood. That averted flood alone saved as much as the reservoir cost, proving its worth. Originally, the reservoir was planned as part of a proposed shipping channel, the plans for which have been abandoned. Now the Tarrant Regional Water District holds the water rights and utilizes the reservoir as a water source for the cities of Benbrook, Fort Worth and Weatherford. Over the years Benbrook Lake has become one of the most popular recreational lakes in the Fort Worth area.
In order to contain potential flood waters, the US Army Corps of Engineers either owns or holds an easement on all lakeshore properties up to an elevation of 741 feet above sea level. The normal lake level is 694 feet. The reservoir has a flood-stage capacity to the 724-feet level which would nearly double the amount of water it could hold if necessary during major flooding, and includes a few more feet as a safety measure. But this land is put to good public use as the Corps maintains and operates three major recreational complexes with two more leased to the City of Benbrook and the City of Fort Worth respectively. Among them, Benbrook Lake supports three campgrounds, some with a variety of camping areas and amenities, five boat launch sites, a marina, five picnic areas, day-use areas, three improved swim areas and a number of trails.
The lake is available for all types of boating, including water skiing, tubing, power boating, personal watercraft, sailing, canoeing and kayaking. On-shore activities include ball fields, courts for tennis, basketball and volleyball, children's playground areas, soapbox derby track, model aircraft fields, and a municipal golf course. A marina and riding stables are operated by concessionaires, with the area near the stables as trailhead for over 14 miles of riding and hiking trails. The campgrounds are so popular that reservations are recommended in order to reserve a space.
Benbrook Lake also offers great angling activity for fishermen: largemouth bass, white bass, hybrid striped bass, crappie, blue catfish and channel catfish are all caught. As with many large Texas reservoirs, Benbrook Lake is noted for excellent bass fishing, particularly the hybrid bass. Tournaments are held at the lake regularly. Bait and tackle are sold at the marina concession, which also provides boat storage. White and hybrid bass can often be caught from shore during the spring runs along the river and creek channels. Some restrictions on shoreline fishing exist in certain areas, so visiting anglers should check with park officials before casting a line. A fishing barge is provided at the Dutch Branch Park to facilitate shore fishing.
Hunting is available on some portions of public land around the lake with hunting permits issued by lottery. The Benbrook Lake area is noted for the wide variety of birds sightings. A Benbrook Lake bird listing is available from the Corps in conjunction with the local Audubon Society. With all of these activities available less than 10 miles from the center of Fort Worth, it is no wonder Benbrook Lake is so popular with both locals and vacationers.
Vacationing at Benbrook Lake gives visitors not only lake-based activities but excellent access to all of the attractions a city like Fort Worth can offer. In addition to the annual stock show, rodeos are regularly produced around the area. The Fort Worth Botanic Gardens offer over 100 acres of lovely blooms, outdoor concerts and special events. The Fort Worth Zoo provides ever-changing exhibits of mammals, birds, reptiles and amphibians along with stage shows and 'wild' encounters. The Fort Worth Museum of Science and History includes a planetarium and great shows in the Omni Max Theater. Among noted museums, the Amon Carter Museum of American Art and the Kimball Art Museum stand out.
There are plenty of activities near Benbrook Lake to please younger family members, too, such as a major amusement park and several water parks. The Fort Worth Nature Center and Refuge offers acres of boardwalks across marshy bayou-like land and drier ground where prairie dogs, deer and buffalo roam. Dallas claims to have more shopping venues than New York City. In fact, the Fort Worth-Dallas Metroplex is noted for all types of shopping, entertainment and nightlife, so there is no excuse for the youngsters to ever claim boredom, even on the occasional rainy day.
There is no real estate directly on Benbrook Lake's shoreline, but there are sometimes lake view properties available. Occasionally private rentals may be found. Nearby towns offer a variety of lodgings, from motels and hotels to guest cottages, housekeeping cottages and bed-and-breakfasts. So if camping isn't in your repertoire, there are plenty of more luxurious places to stay. Come spend some time at Benbrook Lake. One visit and it will likely become your favorite leisure destination.
Things to do at Benbrook Lake
Vacation Rentals
Fishing
Boating
Sailing
Swimming
Canoeing
Kayaking
Water Skiing
Tubing
Golf
Tennis
Camping
Campground
Picnicking
Hiking
Hunting
Wildlife Viewing
Birding
Museum
Playground
Amusement Park
Shopping
Fish species found at Benbrook Lake
Bass
Black Bass
Blue Catfish
Catfish
Channel Catfish
Crappie
Largemouth Bass
Striped Bass
White Bass
---
Benbrook Lake Photo Gallery
Benbrook Lake Statistics & Helpful Links
Spread the word! Share our Benbrook Lake article with your fellow Lake Lubbers!