Belton Lake, Texas, USA
Lake Locations:
USA - Southwest - Texas - Prairies and Lakes -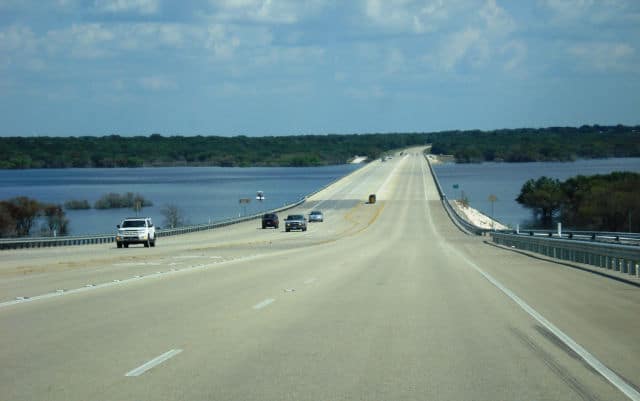 Imposing bluffs stand tall in the Texas wind, as if serenely surveying Belton Lake's calm, clear waters. An osprey spreads its wings from atop the bluff, gathering speed while descending into one of the lake's many curling coves. Boaters, kayakers, anglers and sunbathers glance upwards to watch the osprey's smooth flight, resuming their activities once the bird melts into the surrounding trees.
Belton Lake is home to an abundance of both animals and activities, keeping all types of outdoor enthusiasts happy with the nearly limitless number of things to do. Throughout the year, vacationers and locals tackle this 12,385-acre body of water to fish, boat, hike, camp or picnic. Located within the Prairies and Lakes tourism region in central Texas and next door to the U.S. Army's Fort Hood, the lake is a prime spot for settling down or recharging for a vacation along its 136 miles of shoreline.
Construction began back in early 1949 in order to reduce flood damage, to create water conservation, fish and wildlife habitat and to bring in general recreation to the area. Belton Lake, whose shoreline lies within Bell and Coryell Counties, was completed in 1954 and resides on the Leon River. Belton Lake, which is now owned by the U.S. Army Corps of Engineers, cost an approximate $17.2 million to create.
Now the lake is filled to the brim with lake-goers. If patient, anglers have a number of opportunities to hook a variety of species located in different areas of the lake's depths, including smallmouth bass, channel catfish, crappie and flathead catfish. Anglers casting out in the early morning mist may find a decent number of largemouth bass, white bass and sunfish in the lake. Hybrid striped bass are found in excellent supply, their scales shimmering beneath the warm summer sun.
Children with energy to burn can assist their parents in choosing a place for their next water adventure on Belton Lake's shores. The plethora of parks gives campers the chance to sing songs softly beneath a blanket of stars or to cook a hot meal within the comfort of an RV. A water park towards the lake's western arm holds slippery water slides with happily screaming children, hot grills fired up with hamburgers and hotdogs and sandy beaches full of swimsuit-clad vacationers.
Tucked away from the summer hubbub are areas of Belton Lake made for the quiet hikers, canoeists and kayakers. Those with a practiced eye can scout out wildlife within Tweedle Mountain, which sits in the middle of the lake. Kayakers and canoeists seeking solitude will find plenty of reflection in the lake's many quiet coves, where rabbits, quail, deer and doves may peek out between trees with curiosity.
Boaters have easy access to Belton Lake with multiple boat ramps spread throughout the lake. The shoreline's high bluffs keep waters calm, making it easy for anyone to hop over the boat's wake and to glide easily over the water's surface. Only the steady swish of water on one's skis and the whoosh of air in one's ears can be heard when playing out on the lake.
After exhausting Belton Lake's many resources, a 20-minute drive will take you to the cities of Belton or Temple. The City of Temple brings annual events such as jazz festivals, airshows and the July Fourth Family Fun Fest. Right next door is the City of Belton, where anyone can find bike trails, central Texas cooking, or museums on the area's history.
Boaters looking for another lake's shore can skip on over to Stillhouse Hollow Lake, located less than 30 minutes away. The 6,430-acre lake boasts 58 miles of shoreline and an abundance of fish for anglers. Hikers can find a secluded waterfall hidden along the Chalk Ridge Falls trail.
Miller Springs Nature Center is directly east of Lake Belton and attracts anyone, any age. The 260-acre area, set between 40-foot high bluffs and the Leon River, is open every day from dawn until dusk for no charge. Hike through the trails and open your eyes to new wilderness, throw on your rock climbing gear and scale a few boulders, or sit down to a peaceful picnic with your family.
Belton Lake provides year-round activities for the casual vacationer to the steady homebody. Seek out real estate opportunities and settle into City of Belton's tight-knit community, or skip rocks during sunset and tuck into cozy vacation rentals when the evening is done. Belton Lake will be there, awaiting your arrival.
Things to do at Belton Lake
Vacation Rentals
Fishing
Boating
Swimming
Beach
Canoeing
Kayaking
Camping
Picnicking
Hiking
Rock Climbing
Waterfall
Wildlife Viewing
Birding
Museum
Fish species found at Belton Lake
Bass
Black Bass
Catfish
Channel Catfish
Crappie
Flathead Catfish
Largemouth Bass
Smallmouth Bass
Striped Bass
Sunfish
White Bass
---
Belton Lake Photo Gallery
Belton Lake Statistics & Helpful Links
At LakeLubbers.com, we strive to keep our information as accurate and up-to-date as possible, but if you've found something in this article that needs updating, we'd certainly love to hear from you!
Please let us know about it on our Content Correction form.
Spread the word! Share our Belton Lake article with your fellow Lake Lubbers!