Bark Lake, Quebec, Canada
Also known as:  Lac des Ecorces, Lac de Barkme
Welcome to the ultimate guide for history, statistics, local fun facts and the best things to do at Bark Lake.
If you're considering Bark Lake vacation rentals, we've made it super easy to explore accommodations and nearby hotels using the interactive map below. Simply click on a listing to compare similar properties, best rates and availability for your dates. Or keep scrolling to read our Bark Lake guide!
Bark Lake visitor and community guide
Bark Lake sits among the tree-covered hills of Canada's Laurentian Mountain region a short 50-mile drive northwest of Montreal and 100 miles northeast of Ottawa. Located in southwestern Quebec, Bark Lake falls within the province's Laurentides Tourism Region and the country's Central Canada Tourism Region. Convenient to city dwellers, Bark Lake offers a restful escape where distinctive lakefront properties blend naturally with the scenic countryside.
Long before Europeans came to North America the Bark Lake area, also known as Lac des Ecorces, was home to the First Nation's Algonquin and Iroquois people. In 1534 the first European, Jacques Cartier, arrived in the Montreal area. Change came by 1603 when Samuel de Champlain made his first trip to North America. In 1608 Champlain established the first French settlement (now Quebec City) and embarked on the fur trade. For decades the lucrative beaver-pelt business brought additional explorers and fur traders to the waters and wilderness surrounding Bark Lake. By the 1750s fur trading began to decline but Canada continued to grow. In 1867 four British provinces united to form the beginning of the Canada we know today.
Bark Lake's 1,586 acres wind and curve through the hilly countryside. The 23-mile shoreline is covered by lush evergreen forests stretching up from the waterline to the vast blue sky. Lac des Ecorces' surrounding terrain is typical of the Canadian Shield. Filled with a multitude of lakes and rivers, what were originally high mountain ranges have eroded to a rough, rocky terrain and hills often scraped clear of soil. The beaver that attracted fur traders to these hills can still be seen on Bark Lake. Other wildlife typical of the area include moose, white-tailed deer, wolf, fox, and rabbit. Over 150 species of birds live within the Canadian Shield including the often hunted spruce grouse and ruffed grouse.
Sixteen tributaries feed into Lac de Barkme from surrounding lakes. The majority of water originates in nearby Lake Manitou and downstream from Lake Mousseux and Lake Quatrieme. A dam exists on Bark Lake's single outlet. Water-levels are controlled by the nearby community of Barkmere. Water quality of Bark Lake is consistently good. Much of that is due to the regular monitoring and care provided by Barkmere's residents. Public access to Bark Lake is also located in Barkmere, in fact no boat may be launched at any place other than Barkmere's municipal access ramp at Miller Bay. All boats entering Bark Lake are required to be decontaminated by the municipality. A fee is charged for this service. Other restrictions may apply so be sure to contact the town of Barkmere for current regulations.
With depths reaching 161 feet and length exceeding six miles, Bark Lake attracts fishermen, boaters, and paddlers alike. Whether the catch is for dinner or a gracious release, anglers will enjoy chasing northern pike, lake trout, and smallmouth bass found in the area. Canoeing and kayaking Lac des Ecorces are treasured pastimes. Whether you choose to paddle the open water or venture into the bays, coves, or island shores, breathtaking scenery and wildlife will unfold around you.
The hills around Bark Lake increase in elevation as you drive north and east. Within 30 miles of Bark Lake, residents have access to five ski areas. Mont Tremblant Village, home to one of eastern Canada's more popular resorts, is also the gateway to Mont Tremblant Provincial Park. Nature and adventure lovers will enjoy the endless winter and summer wilderness experiences found here. Over 576 square miles of the Laurentian mountains, more than 100 lakes, and six rivers provide all the ingredients for a perfect family vacation. In addition to fishing, canoeing, camping, hiking, and mountain biking opportunities Mont Tremblant ProvincialPark draws large numbers to its popular cross-country ski trails.
Found within the boundaries of adjacent Rouge-Matawin Provincial Reserve, the Rouge River is a trout fisherman's delight and a popular destination for experienced canoeists and kayakers. To the east, Matawin River is said to be teeming with northern pike. Hunting white-tailed deer and smaller game, including ruffed grouse and snowshoe hare, is also permitted within the reserve.
Several communities ranging in population from 87 to 4,000 lie within Bark Lake's watershed. Local businesses will provide paddling, fishing, and hunting outfitters; boat and canoe rentals; and supplies and services to support the needs of visitors and residents of Bark Lake. Lakefront vacation rentals and real estate properties are available at Bark Lake. Additional country properties can be found in the neighboring communities of Barkmere, Arundel, Montcalm, and Huberdeau. Easily accessible to Bark Lake, mountain retreats close to winter resorts will be found in the communities of Saint-Faustin-Lac-Carre, Adolphe-d'Howard, and Sainte-Agathe-des-Monts. Finding a temporary or permanent residence on or near Lac de Barkme makes a visit to the Laurentians far more than a destination. Historic communities invite an afternoon of exploration as you immerse yourself in the French-Canadian experience. Walk through local parks, gardens, and museums or browse quaint shops and dine on local cuisine where the charm and rich diversity of small-town life offers a welcome change of pace.
Eighty-five percent of Bark Lake's shore remains in its natural state. Here, land and water merge to create a unique environment where you can experience nature in an intimate way. Find your home around Bark Lake and choose to troll the deep waters, glide along the islands and bays, or watch the setting sun throw its long shadows across the sparkling water. Whether you stay a week or a lifetime, come to Bark Lake and let your days blend naturally into the pace of Quebec's countryside.
Custom Bark Lake house decor
Read our full review of these personalized lake house signs.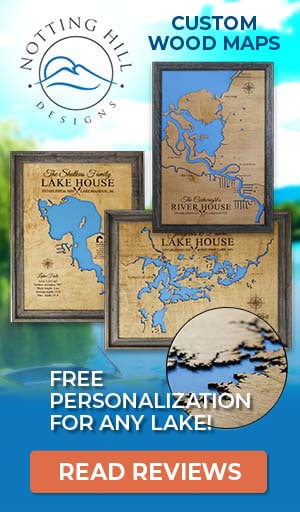 Things to do at Bark Lake
Vacation Rentals
Fishing
Boating
Canoeing
Kayaking
Camping
Hiking
Biking
Hunting
Wildlife Viewing
Birding
Provincial Park
Museum
Fish species found at Bark Lake
Bass
Black Bass
Lake Trout
Northern Pike
Pike
Smallmouth Bass
Trout
---
Best hotels and vacation rentals at Bark Lake
The Bark Lake map shown above is a simple and stress-free way to search for trip accommodations. But if you want to take a deeper dive to find the ideal waterfront home, cabin, condo, hotel or resort, visit our favorite lodging partners by clicking the buttons below.
Note: These are affiliate links so we may earn a small commission if you book through them. While there is no extra cost to you, it helps provide resources to keep our site running (thank you)! You can read our full disclosure policy here.
---
Bark Lake photo gallery
New photos coming soon!
Bark Lake statistics & helpful links
We strive to keep the information on LakeLubbers as accurate as possible. However, if you've found something in this article that needs updating, we'd certainly love to hear from you! Please fill out our Content Correction form.
Advertise your Bark Lake vacation rental
LakeLubbers will soon offer homeowners and property managers the opportunity to to showcase their vacation rentals to the thousands of lake lovers searching our site daily for accommodations. If you'd like additional details, please contact our advertising team here.
Looking for the Bark Lake forum?
LakeLubbers previously offered visitors the ability to create accounts and participate in lake forums. When we overhauled the site's content management system in 2021 we had to disable those features. We're evaluating options and welcome your comments and feedback here.
We also encourage you to join our lake-lovin' community on Facebook and Instagram!
Spread the word! Share our Bark Lake article with your fellow Lake Lubbers!