Lac Saint-Jean, Quebec, Canada
Also known as:  Lake Saint-John, Piekouagami
Welcome to the ultimate guide for history, statistics, local fun facts and the best things to do at Lac Saint-Jean.
If you're considering Lac Saint-Jean vacation rentals, we've made it super easy to explore accommodations and nearby hotels using the interactive map below. Simply click on a listing to compare similar properties, best rates and availability for your dates. Or keep scrolling to read our Lac Saint-Jean guide!
Lac Saint-Jean visitor and community guide
Follow Quebec's Saguenay River to Lake Saint John and you will follow a path carved by time and the impressive power of nature. The two waterways are the premiere features of the Saguenay – Lac-Saint Jean Tourism Region. Located in south-central Quebec, the region includes approximately 25 million acres of rivers, lakes, forests, mountains and plains. Visitors find a mix of dramatic scenery, hydroelectric power systems and industries that provide home and work to over half a million people.
The Saguenay River is at the heart of the region. From Lac Saint-Jean, the Saguenay flows over 128 miles to the St. Lawrence River. For at least 5,500 years, native inhabitants lived, traveled and fished these great waterways. In the 1530s French explorer, Jacques Cartier, was the first European to map the St. Lawrence and explore the Saguenay River. Fur trading between native Innu and Europeans began later in the 16th century, at the Saguenay River town of Tadoussac, the oldest continuously inhabited European settlement in Quebec. The fur trade continued along Lac Saint-Jean with the Saguenay serving as the transportation route for trade goods. The 19th century saw the demise of the fur trade and introduction of company towns hastily built to house employees of pulpmills and sawmills popping up along the shore of Lake Saint John. Over the decades, mills disappeared and communities were abandoned. A bit of this history has been preserved at Val Jalbert, a partially restored ghost town located along Lac Saint-Jean's southwestern shore.
Heavy industry arrived with the construction of six hydro-electric power dams built on the Peribonca and Saguenay Rivers from the late 1920s through the 1950s. The dams are owned and operated by the Aluminium Company of Canada (ALCAN) to power the aluminum smelters built around Lac Saint-Jean's 83-mile shoreline.
Lake Saint-Jean is named for Jean Dequen, a Jesuit missionary and the first European to reach the lake in1647. Reflecting the surrounding flat plains, native Innu call the lake Piekouagami which means "flat lake." With a surface area of 260,201 acres, Lac Saint-Jean is Quebec's largest inhabited lake. Even with a maximum depth of 207 feet, Lake Saint John is considered a shallow glacial lake and is fed by multiple rivers draining over 27,000 square miles. The forested land at the northern headwaters are drained by the Peribonca, Mistassini, Mistassibi and Ashuapmushuan Rivers. The southern highlands are drained by the Metabetchouane, Ouiatchouane and Ouiatchouaniche Rivers. Two outlets at the southern end of the lake feed water from Lac Saint-Jean into the Saguenay River.
Areas of poor water quality at Lac Saint-Jean have been an ongoing concern — contaminates from pulpmills, papermills and aluminum smelters have had a substantial impact on lake life and fisheries of the Saguenay and St. Lawrence Rivers. Community, provincial and national initiatives have been implemented to address air and water pollutants accompanying heavy industry with promising results for the future of marine life.
Water contaminates and dam construction have substantially reduced the fish populations within Piekouagami. Whether it be on the water or on the ice, fishing remains a popular sport on Lac Saint-Jean. Among the species in Lake Saint John are rainbow trout, lake trout, landlocked salmon, lake whitefish, white sucker, burbot, walleye and slimy sculpin.
With a volume in excess of nine million acre-feet, water sports remain the main attraction at Lac Saint-Jean. Boat launches, docks and yacht clubs can be found in the many communities surrounding the lake. The large expanse of open water is an invitation to those with powerboats, sailboats, kayaks and canoes. If you are a serious swimmer, the community of Roberval at the southern end of Lac Saint-Jean is the place for you. Considered the "long distance swimming capital of the world," the city has hosted Traversee Internationale du lac St-Jean for over 50 years. The festivities and distance swimming events attract over 10,000 visitors each summer.
Canada's Pointe Taillon National Park is found at the mouth of the Peribonca River on the northeastern shore of Lake Saint-John. A beautiful nine-mile beach formed by the Peribonca welcomes summer swimmers and beach walkers. Peat bogs and swamps found along the park's 28-mile hiking trail create unique environments to observe wildlife such as beaver and moose. Bicycles, canoes, kayaks and pedal boats are all available for rent within the park. Family-friendly amenities include a snack bar, visitor center, picnic areas, playgrounds, campgrounds and restrooms.
Follow the waters of Lac Saint-Jean southward to the winding Saguenay River and you will be carried into the northern hemisphere's southern-most fjord. Created by rifts in the Canadian Shield millions of years ago, then carved by glaciers during the last ice age, the Saguenay River reaches depths of 1150 feet. Cruise ships sail the river as it cuts through the Laurentian Mountains. Scenes of mountain sides, rocky canyon walls and migrating whales make this an experience not to be missed. The southern half of the Saguenay River and surrounding mountainsides are protected by Canada's Saguenay National Park. If you can tear yourself away from the beauty of the fjord, the park offers camping, snowshoeing, backcountry skiing, hiking and fishing for outdoor enthusiasts.
If visiting Quebec in the winter, a not-to-be missed event in late January/early February is the Quebec Winter Carnival in Quebec City. Known as the "Mardis Gras in the Snow," Quebec's Winter Carnival is one of the largest carnivals in the world, transforming the city into a gigantic outdoor party. The "snowman" Bonhomme is the icon of the carnival, recognizable in his red cap, black buttons and Quebecois sash. Each year an ice palace is constructed for Bonhomme, with colored lights shining through the walls of ice. The celebration includes international snow sculpture competitions and the annual canoe race across the St. Lawrence River.
Where Lac Saint-John waters meet the St. Lawrence River at the mouth of the Saguenay River, you will find the Saguenay-St. Lawrence Marine Park. Here, Lake Saint John's freshwater mixes with salt water to create one of the country's great marine habitats. Four whale species (blue, fin, minke and beluga) are found here. The threatened beluga whales live in the Saguenay waters year-round. Millions of migratory birds also flock to the confluence of these mighty rivers. The Bird Observatory at Tadoussac was established to study the region's bird populations. At peak season, as many as 130 species pass through the migratory region each day. Pine siskin, pine grosbeak, common redpoll, American robin, and white-winged crossbill are listed among the most abundant bird species.
A selection of outfitters, campgrounds, hotels, and bed & breakfasts can be found around Lac Saint-Jean and its many rivers. Unique to Quebec is a network of "authentic heritage villages" that welcome visitors. Villages that have retained their history through their architecture and lifestyle provide the opportunity to experience Quebec's history and traditions first hand. L'Anse-Saint-Jean and Sainte-Rose-du-Nord are two authentic heritage villages found within the Saguenay – Lac Saint-Jean Region. Whether you select a vacation rental or real estate property within historic villages, or along lakes and rivers, you will experience the passage of time through the people, land and water that intertwine to create spectacular Saguenay – Lac Saint-Jean.
Custom Lac Saint-Jean house decor
Read our full review of these personalized lake house signs.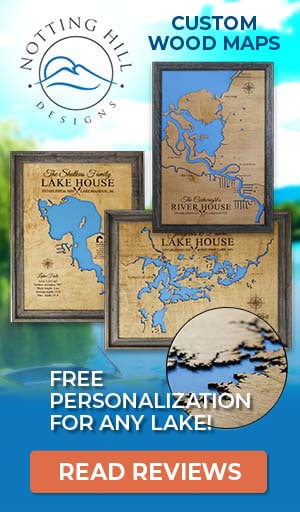 Things to do at Lac Saint-Jean
Vacation Rentals
Fishing
Boating
Sailing
Swimming
Beach
Canoeing
Kayaking
Camping
Campground
Picnicking
Hiking
Biking
Snowshoeing
Wildlife Viewing
Birding
National Park
Playground
Fish species found at Lac Saint-Jean
Burbot
Lake Trout
Perch
Rainbow Trout
Salmon
Sculpin
Sucker
Trout
Walleye
Whitefish
---
Best hotels and vacation rentals at Lac Saint-Jean
The Lac Saint-Jean map shown above is a simple and stress-free way to search for trip accommodations. But if you want to take a deeper dive to find the ideal waterfront home, cabin, condo, hotel or resort, visit our favorite lodging partners by clicking the buttons below.
Note: These are affiliate links so we may earn a small commission if you book through them. While there is no extra cost to you, it helps provide resources to keep our site running (thank you)! You can read our full disclosure policy here.
---
Lac Saint-Jean photo gallery
New photos coming soon!
Lac Saint-Jean statistics & helpful links
We strive to keep the information on LakeLubbers as accurate as possible. However, if you've found something in this article that needs updating, we'd certainly love to hear from you! Please fill out our Content Correction form.
Advertise your Lac Saint-Jean vacation rental
LakeLubbers will soon offer homeowners and property managers the opportunity to to showcase their vacation rentals to the thousands of lake lovers searching our site daily for accommodations. If you'd like additional details, please contact our advertising team here.
Looking for the Lac Saint-Jean forum?
LakeLubbers previously offered visitors the ability to create accounts and participate in lake forums. When we overhauled the site's content management system in 2021 we had to disable those features. We're evaluating options and welcome your comments and feedback here.
We also encourage you to join our lake-lovin' community on Facebook and Instagram!
Spread the word! Share our Lac Saint-Jean article with your fellow Lake Lubbers!