Balsam Lake, Wisconsin, USA
Lake Locations:
USA - Midwest - Wisconsin - Lake Superior Northwoods Region -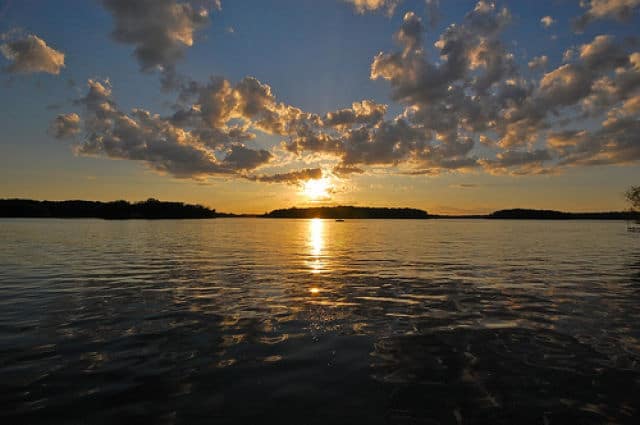 Polk County in Northwest Wisconsin is described as a "Gift of the Glaciers." The phrase certainly applies to Balsam Lake and the town that bears its name. Balsam Lake has exceptional fishing, boating and wildlife and is a gift for anyone who enjoys the outdoors.
The Native Americans named the area around Balsam Lake "Innenehinduc" which means "Place of the Evergreens." The Chippewa lived around the lake when the first European settlers arrived. There was a trading post at Balsam Lake from 1844 through 1865. Eventually settlers built a dam, sawmill, and boarding house, and the town of Balsam Lake was born. That dam was rebuilt in 1941, but it no longer exists. The Town of Balsam Lake was officially organized in 1870, and it is Polk's County Seat. In 1860 there was a dam built at the lake's outlet. Rebuilt in 1893 it is still a functioning dam and holds the lakes water levels ten feet higher than the natural levels. The dam was owned by the Northwestern Wisconsin Electric Power Company and is now owned by the Village of Balsam Lake.
Balsam Lake is predominately fed by Rice Creek and Harder Creek. The lake's outflow is through Mill Pond. There are several islands in the lake to explore and canoeing and kayaking are popular. There is also power boating, water skiing, and jet skiing. The lake is mesotrophic tending toward eutrophic, but the water quality is still good.
Balsam Lake is known for its large mouth bass fishing. There are also healthy populations of northern pike, bluegill, crappie and muskie. There are walleye in the lake, but their numbers have been declining. The Wisconsin Department of Natural Resources has stocked Balsam Lake for several years in an attempt to boost the walleye population. In the winter there is also ice fishing on the lake. Winter is also a great time to cross country ski, snow shoe, and snow mobile around the lake.
The wildlife around Balsam Lake is diverse and plentiful. There are black bear, white tailed deer, foxes and minks just to name a few. Bald eagles soar around the lake and there are also ring-neck pheasants and woodcock. Waterfowl includes but certainly isn't limited to mallards and wood ducks. Nearby Interstate Park is Wisconsin's oldest State Park and a great place for wildlife. Established is 1900, the park extends into both Wisconsin and Minnesota. There is hiking, camping and also an Ice Age Center with exhibits about the glaciers that formed the region.
The St. Croix National Scenic Riverway forms the western boundary of Polk County. Including both the St. Croix and Namekagon Rivers, the riverway is 252 miles to explore by canoe or kayak. Those who prefer to explore on land will find 90 miles of railroad corridor in the Gandy Dancer Trail. Named for the men who laid the rails, the trail is a great place to hike, bike, or ride horse. The trail extends from St. Croix Falls to Superior.
The beautiful glacier formed geography and abundant fish and wildlife provide a magnificent backdrop for Balsam Lake. Combined with the amenities and accommodations of Polk's County Seat, Balsam Lake is an exceptional Northwest Wisconsin getaway and truly a gift waiting to be enjoyed.
Things to do at Balsam Lake
Vacation Rentals
Fishing
Ice Fishing
Boating
Canoeing
Kayaking
Jet Skiing
Water Skiing
Camping
Hiking
Horseback Riding
Wildlife Viewing
Birding
State Park
Fish species found at Balsam Lake
Bass
Bluegill
Crappie
Largemouth Bass
Muskellunge
Northern Pike
Perch
Pike
Sunfish
Walleye
---
Balsam Lake Photo Gallery
Balsam Lake Statistics & Helpful Links
Spread the word! Share our Balsam Lake article with your fellow Lake Lubbers!