Ashford Lake, Connecticut, USA
Lake Locations:
USA - New England - Connecticut - Mystic Country -
Also known as:  Lake Ashford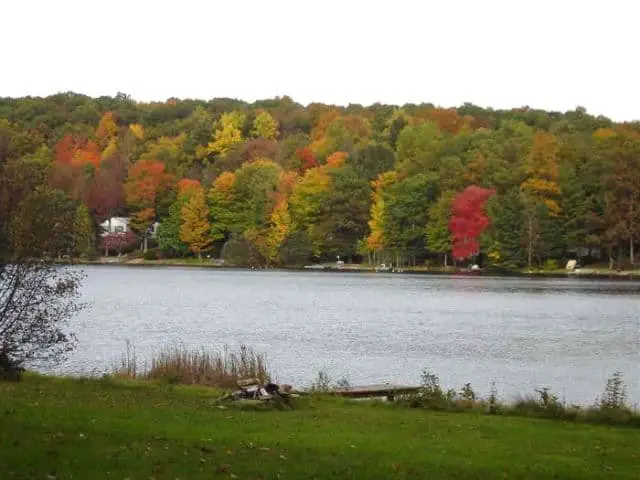 There is a strip of dark land in the corridor between metropolitan Boston and Washington, D.C.; it's "a place where the soft glow of city and town lights doesn't exist." During the day it is an uninterrupted green, and at night, pilots use the swath of forest and farmland to navigate. It's called The Last Green Valley and nestled in its midst is Ashford Lake. It is a place where life slows down and time is measured in a gentler way. With its clean, quiet water, charming lakeside cottages and wooded shore, Ashford Lake provides respite for visitors and homeowners alike.
Just outside the Town of Ashford, in Connecticut's Mystic Country Region, Windham County's Lake Ashford is a private lake surrounded by residential development. The spring-fed lake has an earth embankment dam that was finished in 1949, and its outlet is Goss Brook. The lake is only accessible to homeowners and their guests. There are, however, vacation rentals available to those who would like a chance to slow down and enjoy the peace and quiet on Ashford Lake.
The Ashford Lake POA manages the lake, common areas and swimming beaches. They are also responsible for organizing the annual Boat Parade. No boats with over a 5HP motor, either electric or gas, are allowed on Ashford Lake, and this quiet nature makes it an ideal lake to explore by canoe or kayak. The fishing is also very good, especially for largemouth bass.
The Town of Ashford was founded in 1714, and has a rich history that reflects the birth of a nation. It also has fantastic restaurants, quaint shops and lots of places for antiquing. In the fall, the changing color of the leaves draws people from all over. Visitors can pick apples and sip on cider or watch maple syrup being made in one of the nearby sugarhouses. There is real estate available for sale, and Lake Ashford is only 20 minutes from the University of Connecticut, making it an easy commute. The lake is also just half an hour from Massachusetts's Historic Sturbridge Village. The 200-acre living history museum depicts life in the 1830's and has 40 buildings with character interpreters.
Translated to mean "Land between the Rivers," the Natchaug State Forest is an easy drive from Lake Ashford. There are trails for hiking, biking and horseback riding, and in season visitors can hunt, cross-country ski and snow mobile. For history lovers, a large stone fireplace and chimney mark the remains of General Nathaniel Lyon's birthplace; General Lyon was the first Union general killed during the Civil War.
A short drive to the south of Ashford Lake, Mansfield Hollow State Park has trails for hiking, biking and cross-country skiing. The US Army Corps of Engineers built a dam on the Natchaug River to create a water supply reservoir. The 500-acre Mansfield Hollow Lake in surrounded by the state park and is a great place for both boating and fishing.
About 78 percent of The Last Green Valley's 695,000 acres is forest or farmland. That description applies to the area around Ashford Lake as well. Small, quiet towns remember a simpler time. Add the soothing water of Ashford Lake, and it is a spot to rejuvenate the soul.
Things to do at Ashford Lake
Vacation Rentals
Fishing
Boating
Swimming
Beach
Canoeing
Kayaking
Hiking
Biking
Cross-Country Skiing
Horseback Riding
Hunting
State Park
State Forest
Museum
Antiquing
Fish species found at Ashford Lake
Bass
Black Bass
Largemouth Bass
---
Ashford Lake Photo Gallery
Ashford Lake Statistics & Helpful Links
At LakeLubbers.com, we strive to keep our information as accurate and up-to-date as possible, but if you've found something in this article that needs updating, we'd certainly love to hear from you!
Please let us know about it on our Content Correction form.
Spread the word! Share our Ashford Lake article with your fellow Lake Lubbers!