Ammersee, Bavaria, Germany
Lake Locations:
Also known as:  Ammer Lake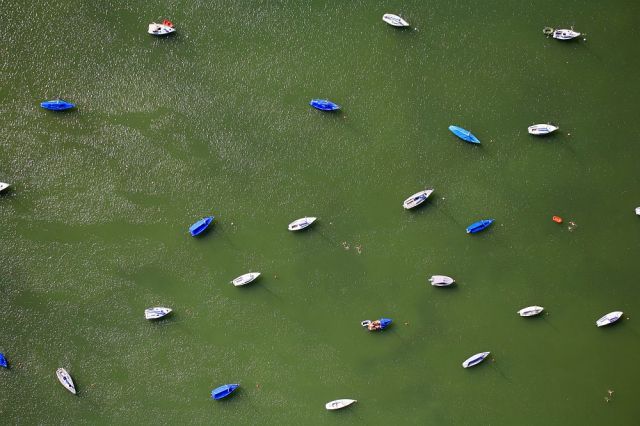 Tucked away in the foothills of the Bavarian Alps in the land of beer, gardens, and fairytale castles, Ammersee (see =lake) shines like a jewel. Covering about 11,600 acres, Ammer Lake is conveniently located just 20 miles southwest of Munich, making it an ideal weekend getaway for city dwellers and international tourists alike. The lake is glacial in origin with a history dating back to ancient times. More recently, Ammersee has grown to become a favorite destination for water sports and relaxation.
Ammersee is 10 miles long and over 3 miles wide with a maximum depth of 266 feet. The clean, clear lake is fed primarily by the River Ammer. Water exits the lake as the River Amper which provides opportunities for canoeing and white water rafting. Ammersee is part of the Funf-seen-land or "Five Lakes Region" that includes Stamberger See, Worthsee, Pilsensee and Wesslinger See. Only Stamberger See is larger than Ammersee, and both are popular boating destinations.
Unlike most of the other lakes in Bavaria and the other Funf-seen-land lakes, Stamberger See and Ammersee allow motor boats and waterskiing. Ammer Lake is also a great place to sail, windsurf, canoe and kayak. Boat rentals are available around the lake, and sailing regattas are held every year. Visitors can enjoy a boat cruise on a ferry that goes back and forth across the lake, and several areas around the lake have places for swimming. Anglers can expect to find healthy populations of Northern pike, European perch, Arctic char and European eel to challenge them.
Ammersee has 27 miles of shoreline, and it is possible to cycle around the lake. The lake is surrounded by forested hills with several trails providing access to the countryside. There are several villages nestled around the shoreline of Ammer Lake. Holiday villas, cottages, and other self-catering vacation rentals are all available. The east and west sides of the lake have very different flavors, so visitors are sure to find the pace that suits them. The west bank, including the villages of Schondorf, Utting and DieBen, is quiet and very rural. A nature reserve protects part of the area for birds and wildlife, and there are beautiful (and topless) beaches to enjoy. The east bank of the lake moves at a faster pace with a variety of resorts, hotels, lakeside cafes and restaurants. Visitors can stroll along the lake, window shopping before deciding where to enjoy dinner for the night.
The eastern shore of Ammersee is home to the Andechs Abbey. The abbey and its rococo style church are an important pilgrimage site in southern Germany, but the abbey is probably best known for the beer brewed by the Benedictine monks that live there. The monks make seven different varieties, and visiting heads of state and tourists alike have been known to make the pilgrimage to taste them.
Several of the villages around Ammer Lake are connected by train to Munich, Bavaria's capital. The lake is accessible in both directions – for residents leaving Munich and for visitors taking day trips from Ammersee to enjoy the cultural opportunities of the capital city. With its beautiful, clear water set against the backdrop of the Bavarian Alps, Ammersee is the perfect destination for weekend visitors from Germany and a once-in-a-lifetime trip for international visitors.
Things to do at Ammersee
Vacation Rentals
Fishing
Boating
Sailing
Swimming
Beach
Canoeing
Kayaking
Whitewater Rafting
Water Skiing
Hiking
Wildlife Viewing
Birding
Shopping
Fish species found at Ammersee
Char
Eel
Northern Pike
Perch
Pike
---
Ammersee Statistics & Helpful Links
Spread the word! Share our Ammersee article with your fellow Lake Lubbers!