Abant Lake, Turkey
Also known as:  Lake Abant, Abant Golu
Welcome to the ultimate guide for history, statistics, local fun facts and the best things to do at Abant Lake.
If you're considering Abant Lake vacation rentals, we've made it super easy to explore accommodations and nearby hotels using the interactive map below. Simply click on a listing to compare similar properties, best rates and availability for your dates. Or keep scrolling to read our Abant Lake guide!
Abant Lake visitor and community guide
One of Turkey's most scenic lakes, Abant Lake is likely one of the most visited. Part of the 2800-acre Abant Nature Park, this 316-acre lake was formed by a landslide in the distant past. The lake has existed long enough that a breed of endemic trout has evolved, the Abant trout, a subspecies of brown trout. As Abant Lake can be reached by car without major difficulty, it has become one of the most popular holiday destinations in Turkey.
Also known as Lake Abant, this natural lake is nestled in one of the greenest and most heavily forested areas of Turkey, less than three hours from both Istanbul and Ankara. Turkey's first fish hatchery is located here to propagate the well-known Abant trout. Visitors often come to the ponds to catch fresh trout. Only a few hotels and a couple of campgrounds are located along the shoreline. The scenic lake, set against a backdrop of the surrounding mountains, is the real attraction at Abant Lake.
There are no marinas at Abant Lake, although the hotels sometimes provide small boats and water bikes. No major public swimming beaches or water sports attractions are on display here. Instead, visitors walk the four-mile road around the lake, or rent a horse for the trek. Horse-drawn carriages are also available. Those circling the lake mention how many birds and birdsongs they observe. Picnics along the shore are romantic fare for young couples who often purchase lunch from the variety of food venders near the hotels. The food vendors provide an eclectic mix of food choices, and one can equip a picnic basket to include barbecued sausages, cheeses, fresh fruits and vegetables, fresh breads and wine. The hotels offer more elegant cuisine for luncheons, but excellent food is a feature no matter where you go at Abant Lake.
Restaurants and a few bungalows along the lakefront road make this the perfect spot for a quiet getaway or romantic weekend. Four day-use areas offer piers, restrooms, picnic tables and playgrounds for the children. In one spot along the shore, local residents are allowed to sell hand-crafted wares, fruits and vegetables on specified days. The circular lakeside road may be closed to vehicles in the future, with tour buses being the only motorized conveyances entering the park.
A few tiny villages and villagers' orchards can be seen near the lake. Some of the villagers act as guides for tours into the wooded Nature Park. Over a thousand acres of the park are open space and settlements. Fourteen hundred acres are preserved as forest with some as restricted areas. Within the forest eco-zone, it is possible to enjoy all four seasons at Lake Abant; the altitude and the many trees produce a riot of flowers in the spring and all of the deep reds and golden yellows of a New England autumn in the fall. Winter often brings snow, and the lake sometimes freezes enough to allow for ice skating.
The plants and trees in the forested areas include European black pines, Scotch pines, larch, beech, ashes, oaks, hornbeam, poplar, junipers, willows, holly, hazels, tamarisks, strawberry trees and common medlar. Also growing are dog-rose, forest rose, bracken, strawberry, blackberry, raspberry, mint, nettle, ivy, mare's tail, and several types of pasture grasses. The park shelters wild boar, fallow deer, roe deer,brown bear, red fox, jackal, and rabbit among other mammals. The birds seem to be ever-present, singing their pleasure at the beautiful woods.
Turkish families are often seen picnicking along the shore. Resort-goers from the Black Sea resorts come to Abant Lake for a quiet day away from the crowds. Workers from Bolu 18 miles to the northeast often take holidays here, renting one of the many guest houses on the road leading to the park or guest lodgings at the small town of Mudurnu 11 miles south. Mudurnu is becoming an Ottoman revival town, with the old houses being restored and re-purposed to attract visitors. There's a lively bazaar area and several sites of cultural or historic interest. Visitors to the area often visit Abant Lake as a day excursion while staying in one of the hotels in Bolu where they can enjoy sightseeing and cultural activities.
Bolu holds a picturesque 14th century mosque, Bolu State Fine Arts Gallery, and the Museum of Bolu. The Bolu Archeology and Ethnography Museum has artifacts from the Hittite, Roman, Byzantine, Seljuk and Ottoman periods, including an impressive collection of more than 11,300 ancient and Islamic coins. Long known for its mineral water spas, one of the hotels offers hot mineral water baths directly from the underground springs. Surprisingly, the temperature is just perfect for bathing.
Construction of facilities and infrastructure near Abant Lake is proceeding slowly and carefully to preserve the pristine natural area. Only limited studies appear to have been done on the lake itself, so Abant Lake is still somewhat mysterious. One small stream flows into the lake-the Bespoyraz. Much of the lake's water appears to come from springs. The out-flowing stream, augmented by water draining from the surrounding hills and forests, becomes the Filyos River by the time it reaches Bolu.
Peaks in this part of Turkey provide ski slopes and resorts during winter, further adding to the year-round attractiveness of a vacation in the Bolu region. Lodgings are plentiful, both at the lake and in nearby areas. If you're looking for a scenic and quiet respite, Abant Lake is one of the best places in Turkey to find it.
Custom Abant Lake house decor
Read our full review of these personalized lake house signs.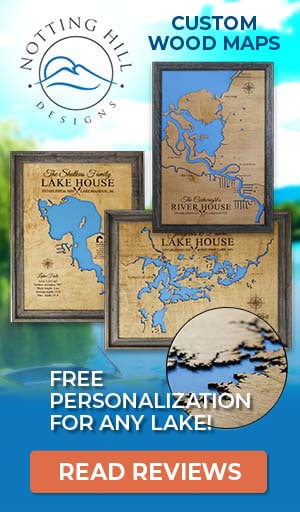 Things to do at Abant Lake
Vacation Rentals
Fishing
Boating
Swimming
Beach
Camping
Campground
Picnicking
Ice Skating
Horseback Riding
Wildlife Viewing
Birding
Museum
Playground
Fish species found at Abant Lake
---
Best hotels and vacation rentals at Abant Lake
The Abant Lake map shown above is a simple and stress-free way to search for trip accommodations. But if you want to take a deeper dive to find the ideal waterfront home, cabin, condo, hotel or resort, visit our favorite lodging partners by clicking the buttons below.
Note: These are affiliate links so we may earn a small commission if you book through them. While there is no extra cost to you, it helps provide resources to keep our site running (thank you)! You can read our full disclosure policy here.
---
Abant Lake photo gallery
New photos coming soon!
Abant Lake statistics & helpful links
We strive to keep the information on LakeLubbers as accurate as possible. However, if you've found something in this article that needs updating, we'd certainly love to hear from you! Please fill out our Content Correction form.
Advertise your Abant Lake vacation rental
LakeLubbers will soon offer homeowners and property managers the opportunity to to showcase their vacation rentals to the thousands of lake lovers searching our site daily for accommodations. If you'd like additional details, please contact our advertising team here.
Looking for the Abant Lake forum?
LakeLubbers previously offered visitors the ability to create accounts and participate in lake forums. When we overhauled the site's content management system in 2021 we had to disable those features. We're evaluating options and welcome your comments and feedback here.
We also encourage you to join our lake-lovin' community on Facebook and Instagram!
Spread the word! Share our Abant Lake article with your fellow Lake Lubbers!