Talsperre Zeulenroda, Thuringia, Germany
Lake Locations:
Also known as:  Lake Zeulenroda, Zeulenroda Dam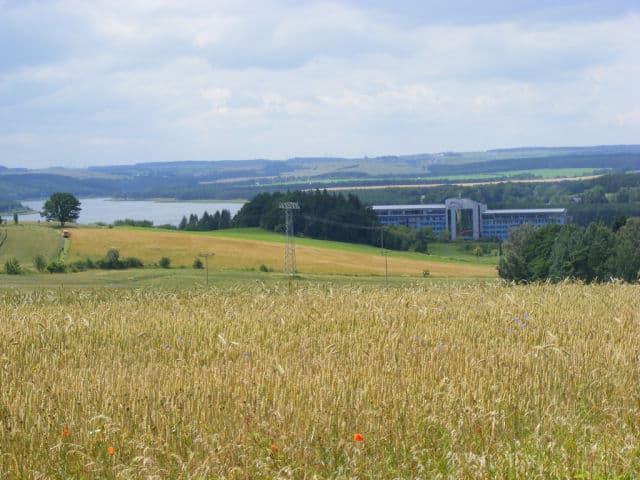 Lake Zeulenroda's idyllic mountain landscapes lend it an aura of profound peace and tranquility. Also known as Zeulenroda Dam, this immensely popular reservoir is located in Germany's Thuringia region. It is the second dam constructed along the Weida River (the first is Talsperre Weida) near the town of Wieda. Zeulenroda dam has two main functions: to prevent flooding and to serve as a pre-storage drinking water basin for surrounding towns. Built between 1968 and 1975, Talsperre Zeulenroda wasn't officially opened until 1977. The construction features a biological mechanism for water purification. The narrow lake stretches about 3.4 miles long with irregular branches along its perimeter.
Zeulenroda Dam boasts a surface area of 563 acres and a maximum depth of 98 feet. Carp fishing reigns supreme at this freshwater lake, with specimens commonly weighing up to 62 lbs. Another common species is pike (which weigh up to 26 lbs), as well as perch, eel, trout and whitefish. Ice fishing is possible during the winter, mostly at depths of 60-65 feet. Fishing licenses are required.
There are plenty of recreational opportunities to be enjoyed at Talsperre Zeulenroda, such as boating, sailing and swimming. Land activities around Zeulenroda Dam include bird and animal watching, Nordic walking, and bike riding. Rock climbing is also available for lovers of heights.
Talsperre Zeulenroda is part of the Weida-Zeulenroda water basin, a fertile crop-growing area for winter wheat, winter rape, peas, maize, and fallow. Here you'll also find vast forests, endless rolling hills speckled with grazing livestock, and the nearby city of Zeulenroda. This town's center contains a statue of the 'carp whistler,' a hero from local folklore that managed to rescue the town from being unfairly taxed by an oppressor. There is also a small museum of artifacts from as far back as 1750, when the town really came into its own as a significant German marketplace.
A great day trip from Talsperre Zeulenroda is Hainich National Park, 39,537 acres bursting with impressive forests and ancient myths (like the cave of Barbarossa in the Kyffhauser hills). Germany's 13th national park, Hainich was previously used as a WWII tank training ground – but is now proud to provide a sustainable habitat for 47 types of mammals (including wild cats), 188 species of birds, 2,050 types of beetles and 1,650 kinds of mushrooms.
Hiking is a wonderful way to pass a sunny afternoon at Talsperre Zeulenroda, particularly along the Talsperrenweg Zeulenroda trail, which makes a large circle around the reservoir. Other paths of varying lengths are also perfect for Nordic walking. The Wanderbares Deutschland stretches for 15.5 miles along the entire Zeulenroda reservoir. It begins at the Seehotel Zeulenroda parking lot, and winds through the Weida River valley and over an ancient bridge at the Sichelmuhle mill. From there the trail leads to the Schone Aussicht lookout area, and then to the Riedelmuhle auxiliary dam. Also nearby is the Rennsteig trail, the most popular high-altitude journey in the country.
Various vacation homes, real estate properties and holiday houses are available for purchase and for rent around Talsperre Zeulenroda. Some are right on the waterfront, and boast inviting terraces, hot tubs and satellite television. Other holiday cottages are nestled in the hillsides, with unbelievable lakeside views, tasteful decor, and eloquent swimming pools.
With so much to see and do at Talsperre Zeulenroda, it comes as no surprise that the lake has attracted a great deal of foreign tourism to Germany. There is no better place to discover this country's outdoor splendor than through one of its most treasured reservoirs: Lake Zeulenroda.
Things to do at Talsperre Zeulenroda
Vacation Rentals
Fishing
Ice Fishing
Boating
Sailing
Swimming
Swimming Pool
Hiking
Rock Climbing
Birding
National Park
Museum
Fish species found at Talsperre Zeulenroda
Carp
Eel
Perch
Pike
Trout
Whitefish
---
Talsperre Zeulenroda Photo Gallery
Talsperre Zeulenroda Statistics & Helpful Links
We strive to keep the information on LakeLubbers as accurate as possible. However, if you've found something in this article that needs updating, we'd certainly love to hear from you! Please fill out our Content Correction form.
Spread the word! Share our Talsperre Zeulenroda article with your fellow Lake Lubbers!