Llyn Clywedog, Wales, United Kingdom
Lake Locations:
United Kingdom - Wales - Mid Wales -
Also known as:  Lake Clywedog, Clywedog Reservoir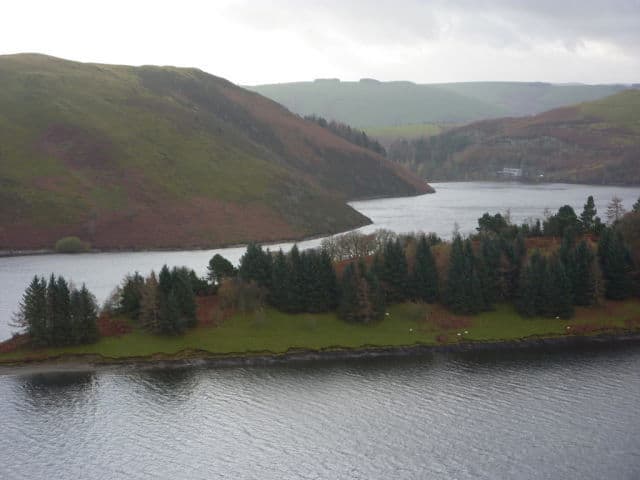 The Clywedog Reservoir, or Llyn (Lake) Clywedog, was formed by damming the River Clywedog, a tributary of the River Severn, in 1967. The concrete buttress dam is the tallest concrete dam in the United Kingdom, with a height of 236 feet (72 meters) and a length of 755 feet (230 meters). The reservoir is located in Mid-Wales near the town of Llanidloes in Powys. The location for the reservoir was chosen to take advantage of high rainfall in the Welsh hills. This rainfall is stored and released from Llyn Clywedog in times of high demand, particularly during extended dry periods. In addition to supplying the Clywedog Valley with sparkling clean water, the reservoir also provides a recreation destination for scenic walks, excellent fishing, and wildlife watching.
At 615 acres (2.5 square kilometers) Llyn Clywedog is considered one of the most beautiful lakes in Wales, offering stunning scenery and a perfect habitat for wildlife. Red kites (a species of bird once nearly extinct), buzzards, Canada geese, peregrine falcons, and ospreys are common sights. Squirrels, polecats, foxes, and the short-tailed vole inhabit the lake's shoreline.
Llyn Clywedog is owned and operated by Severn Trent Water Limited which has constructed a number of walking trails around the lake. Visitors can also drive around the reservoir and stop at a number of picnic and scenic observation points for a wonderful view of the lake and the stunning area. A viewing area located above the dam called the Look Out offers an elevated covered platform where guests of the lake can enjoy a spectacular panoramic view, and (weather permitting) a welcoming cup of tea and a snack. The National Trail of Glyndwr's Way passes beneath the dam before following a course along the southern shore of the lake.
For cyclists, there are various trails in the area including a route which begins in the town of Llanidloes, passes through the Hafren Forest, around Llyn Clywedog and returns to Llanidloes. The round trip id approximately 19 miles (30.5 kilometers).
Llyn Clywedog is amply stocked with brown trout and rainbow trout by the Llanidloes Angling Society. The season for both rainbows and browns begins on March 18th. The brown trout season finishes on October 7th with the rainbow season closing on November 30th. Fly fishing is the only form of fishing allowed on the lake. Fishing competitions, such as the European Bank Competition, are held regularly on Lake Clywedog.
Sailing on Llyn Clywedog is managed by the Clywedog Sailing Club. The organization holds numerous competitions and regattas throughout the year where visitors are always welcome. Measuring just under six miles (9.5 kilometers) long, the lake is open to all types of non-powered watercraft. Boats for fishing, canoeing, and sailing are available for rent.
Vacation rentals and holiday accommodations can be found in the ancient market town of Llanidloes, just south east of Llyn Clywedog. Llanidloes offers hotels, charming bed & breakfasts, holiday cottages, and a number of self-catering options. Camping and caravan parks can also be found within a short drive from the town. Llanidloes is the first town on the River Severn and an ideal base spot for exploring the Mid-Wales area. The town also offers a golf course, shopping, an equestrian center, and miles of trails for walking, hiking and biking. The Hafren Forest lies just northwest of Llanidloes and covers 9,884 acres (40 square kilometers) of mainly pine and spruce trees for hiking, mountain biking and horseback riding.
For an interesting daytrip, the Brecon Beacons National Park is an easy drive south of Llyn Clywedog and contains the highest mountain peaks in South Wales. The National Park stretches from Llandeilo in the west to Hay-on-Wye in the northeast, covering 520 square miles (1,344 square kilometers) of mountains, rolling countryside, woodland, waterfalls, and caves.
West of Llyn Clywedog on the Cardigan Bay sits the seaside town of Aberystwyth. Home to Aberystwyth University, this beautiful community boasts a number of attractions including a wide selection of specialty clothes shops, a historic narrow gauge cliff railway, two wonderful sandy beaches, the remains of a Welsh castle, and a huge choice of pubs, cafes, restaurants, holiday cottages and all sorts of vacation rentals and real estate.
With fantastic fishing and endless trails for hiking, outdoor enthusiasts will find the sparkling waters of Llyn Clywedog a great base for exploring the surrounding hills, valleys, and lush forests. Featuring some of the region's most scenic and isolated countryside, the wild beauty of the area makes it one of Wales' most exhilarating places to visit.
Things to do at Llyn Clywedog
Vacation Rentals
Fishing
Boating
Sailing
Swimming
Beach
Canoeing
Golf
Camping
Picnicking
Hiking
Biking
Horseback Riding
Waterfall
Wildlife Viewing
National Park
Shopping
Fish species found at Llyn Clywedog
Brown Trout
Rainbow Trout
Trout
---
Llyn Clywedog Photo Gallery
Llyn Clywedog Statistics & Helpful Links
Spread the word! Share our Llyn Clywedog article with your fellow Lake Lubbers!