Lake Starnberg, Bavaria, Germany
Also known as:  Wurmsee, Starnberger See
Welcome to the ultimate guide for history, statistics, local fun facts and the best things to do at Lake Starnberg.
If you're considering Lake Starnberg vacation rentals, we've made it super easy to explore accommodations and nearby hotels using the interactive map below. Simply click on a listing to compare similar properties, best rates and availability for your dates. Or keep scrolling to read our Lake Starnberg guide!
Lake Starnberg visitor and community guide
Lake Starnberg, located in the Five-Lakes Region of Bavaria, plays a major role in the recreational plans of Munich residents. Located only 12 miles from Munich, the historic lake is a major tourism destination and home to many of Germany's well-to-do citizens. The second largest lake in Bavaria, Lake Starnberg's size is exceeded only by Lake Chiemsee an hour to the east. Both lakes figure prominently in the history of the former Bavarian kingdom. The five lakes, consisting of Starnberg, Ammer, Worth, Pilsen, and Wesslinger, join a number of smaller lakes remaining as the aftermath of the last glacial period. With the Bavarian Alps as a backdrop, Lake Starnberg looks the part of a playground for the rich and famous. But the everyday holiday-maker is welcomed here as well, along with a variety of tourists from all over the globe.
Local visitors often come to Lake Starnberg to enjoy the public swimming area at the village of Kempfenhausen, just one mile east of the town of Starnberg. Visitors may choose to vacation very reasonably at a camping platziert located near the shore, or choose a holiday flat or apartment and utilize the public beaches. Access from Munich by train is very easy, lending itself to a week-end or longer holiday. The train takes visitors to the docks to board a lake cruiser for a day touring the lake. Other visitors come to stay at resort hotels or a private rental gasthaus. The more affluent may bring the yacht with them or leave it here year-round in a private berth either at their villa or one of the marinas. But even the visitor on a tight budget can rent a sailboat, row boat or paddle-boat. Private combustion engine boats are not allowed on the lake, but the touring boats are plentiful and very convenient for holiday-makers to get around.
Towns by the lake include Starnberg in the north, Seeshaupt in the south, and Tutzing in the west. Most visitors stop at Starnberg to visit the upscale shops selling traditional lederhosen and dirndls. Cycling paths encircle the entire 30 miles of shoreline, and bicycle rentals are plentiful. Canoeing, kayaking, sailing and wind-surfing are favorite pastimes as is fishing. Anglers here pursue pike, perch, trout, whitling, carp, zander, bream, eel and whitefish. Time away from the water may be spent visiting the many restaurants and fish eateries located in the many small towns along the shore. Public parks hold swimming beaches, playgrounds, volleyball courts and even topless bathing. Over a dozen golf courses in the immediate area offer a variety of courses seldom found in one area. Hot air balloon rides over the lake are popular. More than 20 marked walking and hiking trails are located in the Five-Lakes Region, totaling more than 170 miles of trails. And because some of the famed Bavarian ski slopes are only an hour away, visitors also come here in the winter to take advantage of the variety of lodging opportunities found around Lake Starnberg.
Lake Starnberg offers a substantial history lesson about Bavaria and the Bavarian Culture. The lake holds only one island, Roseninsel or Rose Island. Its major inflow comes from a chain of small lakes in the south. This small river is called Ach or Ostersee-Ach. The only outlet is the Wurm River, lending its name to the lake originally. King Ludwig II often met his cousin, the Empress Elizabeth here at the island villa known as the 'Casino'. Ludwig had over 950 roses planted in the rose gardens. The island is accessible by boat during the summer months. Much of the history of the Bavarian monarchy is centered around Lake Starnberg, including the death of the deposed King Ludwig II at Berg. A cross stands in the water where his body was found below the chapel. Elisabeth, daughter to Duke Max of Bavaria, grew up in Possenhofen castle on the banks of Lake Starnberg. The tragic story of Ludwig's death is still a matter of conjecture, and the date of his death is still memorialized. The Empress Elizabeth Museum is open to visitors as is the chapel at Berg.
Other museums around Lake Starnberg include the Lake Starnberg Museum, where the remnants of the Bavarian Royal Fleet that once sailed the lake are housed. The Buchheim Museum showcases a fabulous exhibition of expressionist art. The Museum of Fantasy is located behind by the Bernried ferry stop and contains enchanted pools, pagodas and park lands. A variety of annual festivals celebrate the Bavarian culture and not surprisingly, many of them involve music. Ludwig was a patron of the composer, Richard Wagner; it has been said that Richard Wagner's late career is part of Ludwig's legacy, since he almost certainly would have been unable to complete his opera cycle Der Ring des Nibelungen or to write his final opera, Parsifal, without the king's support. The Rose Island Serenades schedule concerts during the summer months, and the annual Starnberger Music Days are one of Europe's most famed musical events.
Vacation rentals can usually be found around Lake Starnberg, but reservations may be necessary, particularly around holidays. Real estate is often available in the villages along the shore, with some lakefront property occasionally on the market. A visit to Lake Starnberg is the crowning touch for any European trip. So come and see Starnberg – it will become a part of your dreams.
Custom Lake Starnberg house decor
Read our full review of these personalized lake house signs.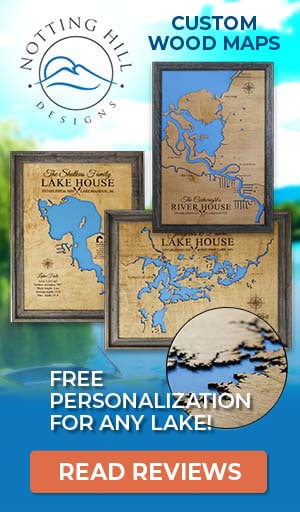 Things to do at Lake Starnberg
Vacation Rentals
Fishing
Boating
Sailing
Swimming
Beach
Canoeing
Kayaking
Wind Surfing
Golf
Camping
Hiking
Biking
Museum
Playground
Casino Gambling
Fish species found at Lake Starnberg
Carp
Eel
Perch
Pike
Trout
Whitefish
Zander
---
Best hotels and vacation rentals at Lake Starnberg
The Lake Starnberg map shown above is a simple and stress-free way to search for trip accommodations. But if you want to take a deeper dive to find the ideal waterfront home, cabin, condo, hotel or resort, visit our favorite lodging partners by clicking the buttons below.
Note: These are affiliate links so we may earn a small commission if you book through them. While there is no extra cost to you, it helps provide resources to keep our site running (thank you)! You can read our full disclosure policy here.
---
Lake Starnberg photo gallery
New photos coming soon!
Lake Starnberg statistics & helpful links
We strive to keep the information on LakeLubbers as accurate as possible. However, if you've found something in this article that needs updating, we'd certainly love to hear from you! Please fill out our Content Correction form.
Advertise your Lake Starnberg vacation rental
LakeLubbers will soon offer homeowners and property managers the opportunity to to showcase their vacation rentals to the thousands of lake lovers searching our site daily for accommodations. If you'd like additional details, please contact our advertising team here.
Looking for the Lake Starnberg forum?
LakeLubbers previously offered visitors the ability to create accounts and participate in lake forums. When we overhauled the site's content management system in 2021 we had to disable those features. We're evaluating options and welcome your comments and feedback here.
We also encourage you to join our lake-lovin' community on Facebook and Instagram!
Spread the word! Share our Lake Starnberg article with your fellow Lake Lubbers!