Lake Albano, Lazio, Italy
Lake Locations:
Also known as:  Lago Albano, Lago di Castel Gandolfo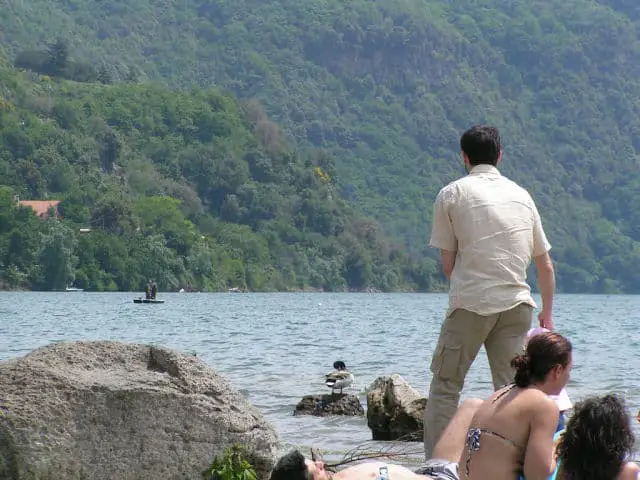 Sitting on the patio of the restaurant overlooking 472-acre Lake Albano with the week stretching in front of her, she can hardly believe she is finally here celebrating her holiday in the Lazio region of Italy. The white wine in her glass is crisp and cold, and the air is perfumed with the sweet tart scent of peaches and strawberries. Lake Albano is everything she imagined Italy to be.
Lake Albano, also known in Italian as Lago Albano and Lago di Castel Gandolfo, is a small volcanic crater lake. Known to the Romans as Albanus Lacus, Lake Albano was formed from two overlapping volcanic craters. The 2.2 mile long, 1.4 mile wide lake has a maximum depth of 560 feet making it the deepest lake in Lazio province. A ridge across the lake rises to 230 feet, evidence of the overlapping craters. Lake Albano is fed by underground springs, and ancient records show it overflowing the banks of the crater. In the 4th century BC an outlet was constructed to regulate water levels. Still functioning to this day, the tunnel travels just under a mile underground. Lake Albano is in a seismically active area, and since the 1960's water levels have dropped almost 13 feet.
Approximately 12 miles south east of Rome, Lago Albano is nestled in the Alban Hills at the foot of Monte Cavo. It has been a summer resort area for Romans for centuries. In fact, Castel Gandolfo on the southern rim of the crater is where the Pope has his summer villa. Named for a 12th century castle belonging to the Roman noble family Gandolfi, Castel Gandolfo first became the site of the summer residence of the Pope when Pope Urban VIII visited between 1623 through 1644. The papal residence is still being used today. In addition to the residence, there are also gardens and the Vatican Observatory.
Restaurants, markets, holiday villas and vacation rentals line the shoreline of Lake Albano. The main square, Piazza della Liberta, has a church designed by Bernini. Legend says that Ascanius, the son of Aeneas, founded the oldest capital of the Sabine League, Alba Longa, at the lake. Castel Gandolfo is one of the villages that make up the Castelli Romani. Translated as Castles of Rome, the villages are scattered over a very fertile volcanic area. Agriculture is strong, and the area produces grapes for wine, strawberries and peaches. Located slightly southeast of Rome, Lake Albano is one of two lakes among the villages; the other is Lake Nemi.
Lake Albano has a beach on the western shore. Along with swimming and sunbathing, visitors can boat and fish. The lake was the site of the canoeing and rowing events during the 1960 Olympics in Rome, and its clean clear waters are a great place to kayak. Anglers will find plenty of fish to challenge them in the deep lake, including chub, black bass, tenches, pike, carp, eel and iridescent trout.
With vineyards and peaches trees as a backdrop to its sparkling waters, Lake Albano is a beautiful summer resort. Its proximity to Rome makes it the ideal place for a long-term holiday or weekend getaway. Visitors are sure to travel to Lago Albano for centuries to come.
Things to do at Lake Albano
Vacation Rentals
Fishing
Boating
Swimming
Beach
Canoeing
Kayaking
Fish species found at Lake Albano
Bass
Black Bass
Carp
Eel
Pike
Trout
---
Lake Albano Photo Gallery
Lake Albano Statistics & Helpful Links
At LakeLubbers.com, we strive to keep our information as accurate and up-to-date as possible, but if you've found something in this article that needs updating, we'd certainly love to hear from you!
Please let us know about it on our Content Correction form.
Spread the word! Share our Lake Albano article with your fellow Lake Lubbers!