Embalse de Los Bermejales, Andalusia, Spain
Also known as:  Bermejales Reservoir, Lake Bermejales, Bermejales Lake
Welcome to the ultimate guide for history, statistics, local fun facts and the best things to do at Embalse de Los Bermejales.
If you're considering Embalse de Los Bermejales vacation rentals, we've made it super easy to explore accommodations and nearby hotels using the interactive map below. Simply click on a listing to compare similar properties, best rates and availability for your dates. Or keep scrolling to read our Embalse de Los Bermejales guide!
Embalse de Los Bermejales visitor and community guide
Little-noticed among most tourists to the Andalusia area of southern Spain, Embalse de Los Bermejales hides a wide array of charming sights and activities that will soon invariably catch the eye of European visitors. Little more than an hour-and-a-half north of the more famous Costa del Sol, Embalse de Los Bermejales embodies a different climate and a different lifestyle. Pleasant and laid-back is an understatement of the friendly ambiance among the locals and semi-permanent residents along the reservoir.
Embalse de Los Bermejales sprawls across almost 1,400 acres of sun-warmed, turquoise water rimmed by pines. Broad, sandy beaches invite a swim or lazy paddling. Water sports are welcome here as long as they don't require high-speed boats with motors. Sailing, wind-surfing, rowing, paddles and splashing rule the day. Canoes, paddleboats and occasionally catamarans can be rented for use. The clear waters hold trout, carp, barbel and a number of other fish, and all that is required is a regional fishing license. The fish are so numerous that they eagerly come to gobble pieces of bread thrown by delighted children. Picnics in the shade of the pines is as popular as sun bathing. And the views across the wide expanse of water to the nearby mountains is soul-soothing. It's a major change from the hectic and glitzy Costa del Sol beach atmosphere-and not nearly as hot! An open-air bar and cafe offers refreshments and snacks to visitors.
Several small villages grace the banks of the sprawling reservoir. Bermejales, the lake's namesake, is only one. Arenas del Rey is located near one of the western arms of the reservoir. Near the dam, at Pantano de Los Bermejales, a small village has grown up that caters mostly to visitors to the lake and nearby beach areas. An area just south of the town along the shore is reserved for holiday cottages and caravans. Near the village, an important archeological site protects megalithic dolmens, the graves of a prehistoric people. Small tourist hotels and cottages are thinly spread along areas of the shoreline, while the ever-present olive, eucalyptus, almond, cherry and pine trees offer welcome shade and delightful scents. Farther away from the shore, the area is quilted with farm fields irrigated by the lake's waters. Nearly all of the villages in the area have a small restaurant or two, a small grocery store and usually local venders selling fresh fish and produce.
Only seven miles from Embalse de Los Bermejales, the spa town of Alhama de Granada holds the promise of hot mineral baths in use since the Roman era. The historic baths show the more recent architecture of the Moors who enjoyed these baths during their reign into the 1200s. Alhama de Grenada still receives European visitors to enjoy the hot sulfur baths. Other visitors come to take part in the Lake Bermejales Half-Marathon, a 15 km course around Embalse de Los Bermejales. Trail running in the area has become quite popular, with organized guided trail runs into the countryside and the Natural Park Sierras Tejada, Almijara and Alhama. Alhama de Grenada holds an annual calendar of festivals and fairs that delight visitors such as the Youth Music Festival, Wine Pilgrimage, Carnival, Candlemas Day and various fairs.
Because Embalse de Los Bermejales is surrounded by national parks, a wide variety of outdoor activities are possible. The countryside is awash with wildflowers and native birds and animals for those who take the time to stop and look. Natural Park Sierras Tejada, Almijara and Alhama to the south is the perfect place to see raptors such as several species of eagles, hawks, goshawks, kestrals and peregrine falcons. Mountain goats, nearly extinct in the last century, have staged a comeback of epic proportions and can often be seen. Winter sports can be engaged in at various Sierra Nevada locations, with the famed ski villages of Grenada less than 30 miles from Embalse de Los Bermejales.
Embalse de Los Bermejales was created when the dam was completed in 1958. Seven streams feed the reservoir. Planning for the reservoir began as far back as 1902, when surveys were completed as to how to best develop the water resources of the arid areas of southern Spain. When the dam was competed across the Rio Cacin basin, twin goals of flood control and irrigation water storage became a reality. By that time hydroelectric power generation had been added to the hydraulic planning. The reservoir is owned by the Spanish government, under the control of the Guadalquivir River Basin Agency. The reservoir has made dramatic changes to the dry landscape, enabling productive farming for food crops a viable and growing agribusiness.
Also growing in the area are holiday lodgings. Along with a number of small hotels, hostels, tourist apartments and guest cottages, more permanent residential lodgings have taken hold. At least one 'camp' along the shoreline holds owned cottages on lots within a gated community. Most are quite small but already some have found these to be the ideal retirement arrangement as opposed to the traditional pension accommodations of the past. These are regularly found for sale, along with other real estate in the area. None of these are located directly on Embalse de Los Bermejales, but many have water access rights and often include lakeside dry storage for boats. Tucked between the Grenada sports attractions and the many national parks in the area, it won't be long before this location is discovered and popularized. So, come and enjoy the serenity of the lake soon.
Custom Embalse de Los Bermejales house decor
Read our full review of these personalized lake house signs.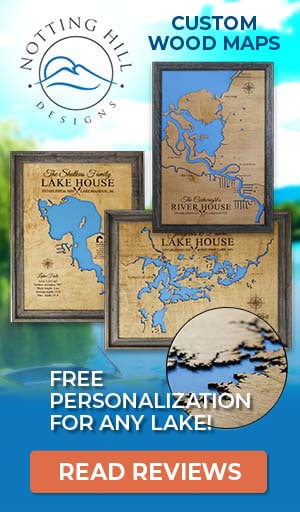 Things to do at Embalse de Los Bermejales
Vacation Rentals
Fishing
Boating
Sailing
Swimming
Beach
Canoeing
Kayaking
Wind Surfing
Camping
Picnicking
Hiking
Birding
National Park
Fish species found at Embalse de Los Bermejales
---
Best hotels and vacation rentals at Embalse de Los Bermejales
The Embalse de Los Bermejales map shown above is a simple and stress-free way to search for trip accommodations. But if you want to take a deeper dive to find the ideal waterfront home, cabin, condo, hotel or resort, visit our favorite lodging partners by clicking the buttons below.
Note: These are affiliate links so we may earn a small commission if you book through them. While there is no extra cost to you, it helps provide resources to keep our site running (thank you)! You can read our full disclosure policy here.
---
Embalse de Los Bermejales photo gallery
New photos coming soon!
Embalse de Los Bermejales statistics & helpful links
We strive to keep the information on LakeLubbers as accurate as possible. However, if you've found something in this article that needs updating, we'd certainly love to hear from you! Please fill out our Content Correction form.
Advertise your Embalse de Los Bermejales vacation rental
LakeLubbers will soon offer homeowners and property managers the opportunity to to showcase their vacation rentals to the thousands of lake lovers searching our site daily for accommodations. If you'd like additional details, please contact our advertising team here.
Looking for the Embalse de Los Bermejales forum?
LakeLubbers previously offered visitors the ability to create accounts and participate in lake forums. When we overhauled the site's content management system in 2021 we had to disable those features. We're evaluating options and welcome your comments and feedback here.
We also encourage you to join our lake-lovin' community on Facebook and Instagram!
Spread the word! Share our Embalse de Los Bermejales article with your fellow Lake Lubbers!