Chiusi Lake, Tuscany, Italy
Lake Locations:
Also known as:  Lake Chiusi, Lago di Chiusi, Chiaro di Luna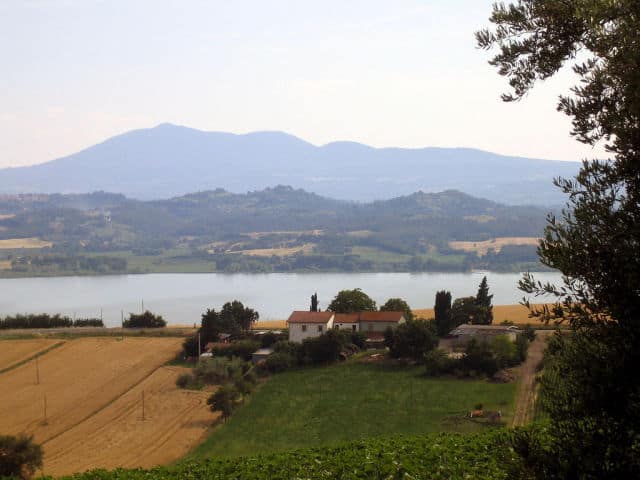 Located in the scenic Tuscan hills, Chiusi Lake lies along the Tuscany-Umbria border in north-central Italy. The nearby community of Chiusi is well situated in the province of Siena, with Florence to the north and Rome to the south. Visitors will find convenient connections to both cities via rail or Highway A1.
As in much of Italy, the land and waterways are steeped in history. The community of Chiusi is built on layers of ancient Etruscan tunnels and a Roman-walled city dating from the sixth and fifth centuries BC. After the Roman Empire's collapse, the land around Chiusi Lake saw centuries of struggle, from plague epidemics to warring families and conquering republics. Today the remaining cathedrals, castles and churches that surround Chiusi and Lake Chiusi add to the sense of peace and tranquility that has come to these Tuscan hills.
Chiusi Lake derives its name from its Etruscan heritage. The community of Chiusi sits atop the ancient Etruscan city of Clevsin. Under Roman reign, the name became Clusium and later evolved into Chiusi. A fanciful local legend holds that the Roman-Celtic goddess Noctiluna used the lake's reflective surface as her mirror, giving Chiusi Lake the regional name of "Chiaro di Luna."
Today, Lago di Chiusi is a World Wildlife Federation nature preserve. Nesting falcons, osprey, bittern, black-tailed godwit, and redshank can be found among the reeds in the Chiari area of Chiusi Lake. In the winter, birdwatchers may find white egret, common gulls, lapwings, snipe, teal, pochards and grebes. At the southern end of Lake Chiusi, the wooded shore has become an important nesting habitat for herons, egrets and red relluhegri.
In addition to rare birds, Chiusi Lake is home to the harvest mouse, a species believed to be found only in the Tuscan hills. Acquatic plants include expanses of duckweed and yellow water lilies. The threatened white water lily has been reduced to a few plants and is protected along with a rare Vallisneria spiralis (tape grass).
In-depth water studies have yet to be conducted on Chiusi Lake or surrounding lakes. In general, area lakes are fed by "underground sources" and are losing volume due to water use. Poor water quality is being regularly monitored and steps are being taken to curb pollution coming from increasing populations and changes in land use.
For reasons of preservation, there are periods when Chiaro di Luna is closed to visitors. At other times, Chiusi Lake's visitor center is open year-round by reservation made through the World Wildlife Federation. A nearby business rents small rowboats. Visitors may glide across the mirrored surface and enjoy quiet observation of plants and animals sheltered along the shore. A hiking trail encircles Lago di Chiusi, where you can enjoy the tranquility of the lake or the view of rolling hills and fields beyond.
Lake Trasimeno, a popular local attraction, lies six miles northeast of Chiusi Lake. With a maximum depth of 20 feet, this large 31,629-acre lake offers a selection of water sports including swimming beaches, sailing, windsurfing and fishing. The surrounding hills offer trails for hiking, biking and horseback riding. Sightseeing includes tours of historic castles and award-winning wineries, shopping through quaint Italian villages and peaceful drives through the Tuscan countryside.
Chiusi Lake and its surrounding rivers offer superb freshwater fishing. Spend the afternoon enjoying the Tuscan scenery while you troll for black bass, carp, eel, perch, pike and trout. In the evening, cook up your delicious catch as you watch the sunset. If you love fresh fish but not fishing, head to one of the area's restaurants, where the mouthwatering seafood dishes feature the day's catch.
Vacation rentals, real estate properties, bed and breakfasts and resorts lie scattered throughout Lake Chiusi's countryside. To possess a Tuscan property for even a week is a dream come true but if you choose to stay a lifetime, you'll have endless opportunities to bask in the Tuscan sun, walk among olive groves, stroll ancient castles, and sample local cuisine. End the day in your Tuscan retreat with a glass of Italian wine, fragrant cheese, freshly baked bread and a Tuscan sunset. Come to Chiusi Lake and make your dream come true.
Things to do at Chiusi Lake
Vacation Rentals
Fishing
Sailing
Swimming
Beach
Hiking
Biking
Horseback Riding
Wildlife Viewing
Birding
Shopping
Fish species found at Chiusi Lake
Bass
Black Bass
Carp
Eel
Perch
Pike
Trout
---
Chiusi Lake Photo Gallery
Chiusi Lake Statistics & Helpful Links
Spread the word! Share our Chiusi Lake article with your fellow Lake Lubbers!