Angostura Lagoon, Cartago, Costa Rica
Also known as:  Laguna Angostura, Lake Angostura, Angostura Hydroelectric Project Lagoon
Welcome to the ultimate guide for history, statistics, local fun facts and the best things to do at Angostura Lagoon.
If you're considering Angostura Lagoon vacation rentals, we've made it super easy to explore accommodations and nearby hotels using the interactive map below. Simply click on a listing to compare similar properties, best rates and availability for your dates. Or keep scrolling to read our Angostura Lagoon guide!
Angostura Lagoon visitor and community guide
Nestled near in the peaceful town of Turrialba in Costa Rica's Central Valley, Cartago Province, Angostura Lagoon constitutes the newest and largest hydroelectric plant in the country. Hydroelectricity, which does not emit greenhouse gas byproducts, is vital to the fulfillment of Costa Rica's goal to become a carbon-neutral nation; as of now, over 80% of its electric power is produced in this manner. This enormous operation, also known as the Angostura Electric Project, receives water from four rivers: the Reventazon, Turrialba, Tulin and Tuis. Managed by the government entity known as Grupo ICE (Instituto Costarricense de Electricidad, or Costa Rican Electricity Institute), the 177-megawatt capacity plant supplies nearly 10% of the country's total electricity.
In addition to its environmental importance, Angostura Lagoon, or Laguna Angostura, has also become a center for recreational water activities such as water skiing, canoeing, kayaking, tubing, and rafting. However, the area's true claim to fame is undoubtedly its remarkable white-water rafting. Thrill-seekers can dominate a number of routes down the Pacuare, Pejibaye and Reventazon Rivers, all of which are flanked by lush, tropical jungle. A 12-mile trip down the popular Pejibaye River begins with class I, II and III level rapids before moving on to the trip's climax: a trio of intense class IVs. The river flows into the Angostura Lake, where tired rafters can drift and float about, savoring the area's sparkling waters and clear mountain views.
Angostura Lagoon is located but a few minutes away from a number of other nearby attractions and activities, like canyoning and waterfall rappelling. Guayabo National Park and Monument is an excavated Pre-Colombian site that was inhabited between 1000 B.C. And A.D. 1400; many of its bridges, roads, aqueducts, temples, and house foundations have weathered the years and can still be viewed today. Cheese factory tours are also available, where dairy lovers can learn about the process of manufacturing the unique soft cheese known as queso Turrialba.
A trip to Lake Angostura is not complete without a visit to the nearby botanical gardens belonging to CATIE, the Center for Tropical Agricultural Research and Education. Created by American visionaries in the 1940s, CATIE's purpose is to research tropical agriculture and to train agriculturalists working in countries allied with the US, particularly those in Central and South America. The Pan American Union's headquarters was established in Turrialba in 1942, but was later transformed into a field office for the Inter-American Institute for Agricultural Sciences (IICA). Today, CATIE offers tours of its 50 plantations and botanical gardens, dedicated to species such as coffee, avocado, mango, cacao, tropical fruit, and pejibayes. These areas provide valuable habitats for wildlife like toucans, butterflies, and iguanas. A mountain bike tour is also available for visitors aged eight and up, which is a bit more physically challenging and fast-paced. Each year in Turrialba, CATIE hosts an international fair fundraiser that attracts philanthropists from far and wide. The celebration features cultural events, sports, international food, and music.
Just a few minutes from Angostura Lagoon, the extraordinary hiking trails at Turrialba Volcano National Park are irresistible to energetic trailblazers. From the parking lot near the top, a trek to the summit of this 10,958-foot stratovolcano takes only about two hours, but only when conditions permit. Adventurers are rewarded with stunning views of fumaroles, mud pits, and Turrialba's three massive craters.
Some areas in this region of Costa Rica are known to receive an average of 26 feet of rain per year — as a result, thick and verdant rainforests provide phenomenal birding and wildlife watching opportunities. It is not uncommon to see such species as the toucan, cormorant, green heron, Muscovian duck, and snowy egret in and around Angostura Lake. Be careful though: the area superior bird watching will ignite in you a fire for wildlife spotting and you may leave Angostura Lagoon with a lifelong passion.
With so many things to do and unique attractions nearby, it is no wonder that modern vacation rentals and real estate properties – many boasting spectacular lakeside views – are in such high demand at Angostura Lagoon; the same is true for the neighboring regions of Turrialba and Cartago. Come experience Costa Rican nature, technology, and culture at its best with a trip to this unforgettable project.
Custom Angostura Lagoon house decor
Read our full review of these personalized lake house signs.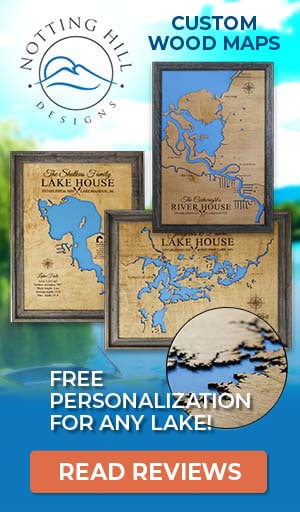 Things to do at Angostura Lagoon
Vacation Rentals
Canoeing
Kayaking
Water Skiing
Tubing
Hiking
Waterfall
Wildlife Viewing
Birding
National Park
---
Best hotels and vacation rentals at Angostura Lagoon
The Angostura Lagoon map shown above is a simple and stress-free way to search for trip accommodations. But if you want to take a deeper dive to find the ideal waterfront home, cabin, condo, hotel or resort, visit our favorite lodging partners by clicking the buttons below.
Note: These are affiliate links so we may earn a small commission if you book through them. While there is no extra cost to you, it helps provide resources to keep our site running (thank you)! You can read our full disclosure policy here.
---
Angostura Lagoon photo gallery
New photos coming soon!
Angostura Lagoon statistics & helpful links
We strive to keep the information on LakeLubbers as accurate as possible. However, if you've found something in this article that needs updating, we'd certainly love to hear from you! Please fill out our Content Correction form.
Advertise your Angostura Lagoon vacation rental
LakeLubbers will soon offer homeowners and property managers the opportunity to to showcase their vacation rentals to the thousands of lake lovers searching our site daily for accommodations. If you'd like additional details, please contact our advertising team here.
Looking for the Angostura Lagoon forum?
LakeLubbers previously offered visitors the ability to create accounts and participate in lake forums. When we overhauled the site's content management system in 2021 we had to disable those features. We're evaluating options and welcome your comments and feedback here.
We also encourage you to join our lake-lovin' community on Facebook and Instagram!
Spread the word! Share our Angostura Lagoon article with your fellow Lake Lubbers!