Peck's Lake, New York, USA
Lake Locations:
USA - Mid-Atlantic - New York - Adirondacks -
Also known as:  Peck Lake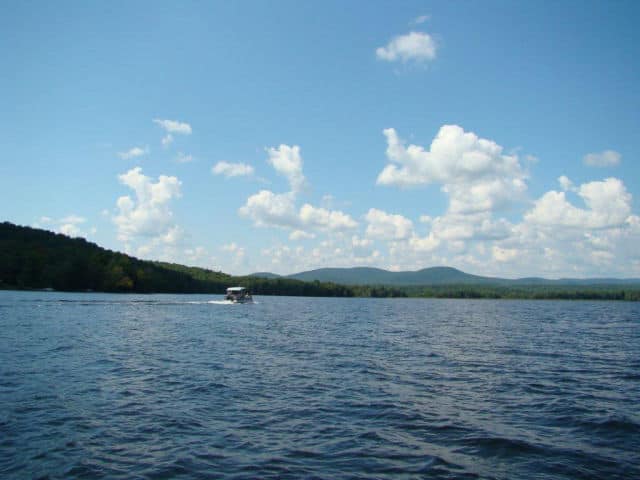 Peck's Lake is tucked away at the southern edge of New York's renowned Adirondack Park. This 1,370-acre reservoir has been providing recreation for well over a century. Archeological finds in the area show evidence of human habitation long before European settlers arrived.
One of the draws to Peck's Lake – besides the obvious benefits of the unspoiled and forested scenery – is that water skiing is allowed on the lake. Many water bodies in the area do not permit this type of water sport. Boats must be between 14 to 20 feet. Motors are limited to 40 horsepower, and skiers are allowed only in a specially marked area during certain hours. The rest of the lake is open to pontooning, canoeing, kayaking, and fishing boats as long as they maintain the 15 mph speed limit.
There are no public beaches at Peck's Lake or publicly-owned boat ramps, but the resort's marina allows boat launching from their ramp as long as the boats meet the general requirements. The marina also rents small boats, canoes and paddleboats, and sells gas, bait and supplies. It even sells refreshments from a lakeside refreshment stand. The resort usually ends up as the focal point of boating on Peck Lake.
Fishing is one of the main reasons visitors come to Peck's Lake. The lake is well known as an excellent fishing destination and offers northern pike, walleye, rainbow and brown trout, pickerel, largemouth bass, smallmouth bass, rock bass, crappies, yellow perch and bluegills. The Peck's Lake Protective Association arranges to have the lake scientifically stocked each year and continually monitors water quality to ensure the lake's good health. Peck Lake is most noted for its sizable largemouth bass, but walleye are being caught in increasing numbers.
Hiking and cycling are enjoyed along the quiet country roads in the area, and a number of people come to view the autumn foliage. Due to its location at the southern edge of the Adirondacks, visitors have access to a number of trails for snowmobiling, cross-country skiing and snowshoeing.
Located only an hour by car from Albany, Peck's Lake is easy to reach for a weekend getaway. The lake is surrounded by opportunities for day trips. The Saratoga Performing Arts Center and harness racing are less than an hour away in Saratoga. Even closer are a number of attractions in the Glens Falls area, such as the Charles R. Wood Theater where the Adirondack Theatre Festival produces several performances each summer. Also located in Glen Falls is the Chapman Historical Museum with preserved homes, historical photos and guided driving tours of notable area sights. The Hyde Collection presents a collection of fine art in a carefully preserved historical home.
A bit over an hour away from Peck's Lake, the Adirondack Museum at Blue Lake is well worth a visit to learn the history of this majestic natural preserve. The background for this magnificent natural landscape is the nearly six million acres of the Adirondack Park. Not entirely public lands, many areas within its boundaries remain private property. Cooperation and a commitment to preservation of this great natural region assure that there are hundreds of miles of trails, ponds and rivers for hiking, trout fishing, canoeing, rock climbing, downhill skiing, snowmobiling, and just plain enjoying the pristine wilderness.
Back when European settlers first arrived, the lake was three separate interconnected ponds. One of the ponds was named for an ancestor of the Peck family who arrived in the 1800s and soon realized how profitable it could be to rent cabins to hunters and fishermen looking to escape the city. Long before the Adirondacks achieved their reputation for unspoiled forests, waters and wildlife, Peck's Pond was supporting sawmills and tanneries on the creeks. The original John Peck left the property to his son Albert, who continued to develop a resort facility on the pond with several small cabins.
Around 1910, when demand for electrical power was increasing, the Mohawk Hydro-Electric Company approached Mr. Peck with an offer he couldn't very well refuse; the power company needed a storage reservoir for their newest hydroelectric plant a short way downstream. They proposed to dam the outlets of the ponds and flood them to make a much larger lake for water storage. If Peck would help them accomplish this by selling them the land that would be underwater, they would give him a 999-year lease on the lake to be used for his resort business. Such a favorable lease was unheard of for the times, and Peck quickly jumped at the chance, buying up additional land around the perimeter of the soon-to-be lake. Two dams were constructed to control both the inflow and outflow of West Stony Creek, entrapping the water and flooding the three ponds into one. When the project was complete, Mohawk Hydro-Electric Company had their storage reservoir and Albert Peck had his much enlarged Peck's Lake.
The resort business grew, with thousands of visitors coming over the years to fish, enjoy boating on the lake, and swim. For about 50 years, the Peck family owned the entire shoreline around the lake, but property tax increases finally convinced them to give in to the pleas of some of their long-time repeat customers and sell off lakefront lots for building private homes. Into the current century, the resort continues in business, and a number of permanent homes, cottages and seasonally-rented campsites share the rest of the lakefront. Despite the homes along the shoreline, a large percentage of the lakeshore is still heavily wooded, making this an ideal place to birdwatch, enjoy waterfowl and their young in spring, and savor the sounds of nature, including the calling of the loons at dawn.
Peck's Lake is a fine place for Adirondack vacationers to start their exploration. Besides the rental cabins at the resort, several private homes and cottages can be rented by the week. A few bed-and-breakfasts can be found in the area, and nearby towns offer lodging in the form of hotels, motels and housekeeping cabins. One visit is all it will take; you'll be looking for real estate at Peck's Lake before you leave, and may well find it as both new development and existing homes are often on the market. Don't wait any longer to discover Peck's Lake. You'll quickly discover why generations have made it their summer home.
Things to do at Peck's Lake
Vacation Rentals
Fishing
Boating
Swimming
Beach
Canoeing
Kayaking
Water Skiing
Camping
Cabin Rentals
Hiking
Rock Climbing
Biking
Downhill Skiing
Cross-Country Skiing
Snowmobiling
Hunting
Wildlife Viewing
Museum
Fish species found at Peck's Lake
Bass
Black Bass
Bluegill
Brown Trout
Crappie
Largemouth Bass
Northern Pike
Perch
Pickerel
Pike
Smallmouth Bass
Sunfish
Trout
Walleye
Yellow Perch
---
Peck's Lake Photo Gallery
Peck's Lake Statistics & Helpful Links
We strive to keep the information on LakeLubbers as accurate as possible. However, if you've found something in this article that needs updating, we'd certainly love to hear from you! Please fill out our Content Correction form.
Spread the word! Share our Peck's Lake article with your fellow Lake Lubbers!