Newfound Lake, New Hampshire, USA
Lake Locations:
USA - New England - New Hampshire - Lakes Region -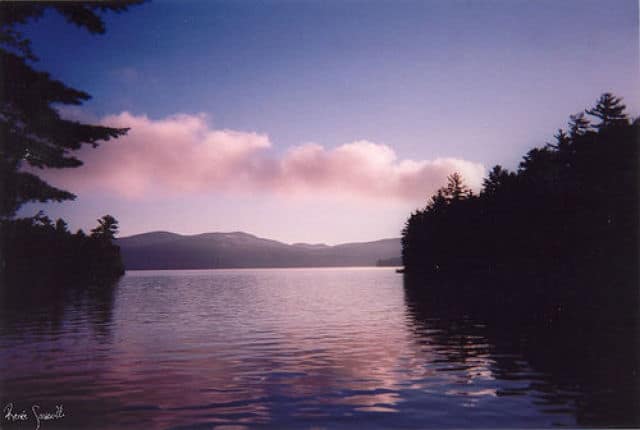 Comfortably situated in New Hampshire's famous Lakes Region, Newfound Lake is the third-largest lake located entirely within the state's boundaries. It stretches 6 miles long and 2.5 miles wide, covering an impressive 4,451 acres. Newfound Lake is known in the area as a beautiful, clean lake perfect for those who want to get away from it all.
Newfound Lake's western shore is bordered by Wellington State Park, which is proud home to the largest freshwater swimming beach in New Hampshire's State Park system. During the summer months, the beach is filled with visitors looking to get a tan, children building sandcastles, and people of all ages splashing in the incredibly clean lake waters.
Newfound Lake fishing highlights include smallmouth bass (averaging about three pounds), large lake trout, catfish, and crappie.
The park also boasts hiking trails that take you on a walking tour of this region's beautiful flora and fauna. Plant markers identify new species, and lookout points offer amazing views of Newfound Lake and the surrounding area. Picnic areas along the lake's shoreline provide you with idyllic spots to eat as you watch the waters ripple, the birds swoop, and the boats float by. After you've digested your meal, you're also welcomed to take part in one of the lively volleyball matches or horseshoe games that regularly take place at the park.
Boaters love Newfound Lake for its peaceful waters, curious coves, and beautiful scenery. If you've ever explored a lake by boat, you'll know firsthand just how different it looks than from land. Newfound Lake is no different, and you'll soon discover that this body of freshwater has many secrets to be discovered, whether you're in a powerboat, pontoon boat, kayak, or canoe. There are several commercial boat launches, and a public launch ramp in Wellington State Park.
New England is famous for its unique scenery, and New Hampshire does not disappoint. Old barns, covered bridges, rushing streams, and awe-inspiring moose are all part of the visual repertoire of the Newfound Lake region. Fall is particularly spectacular when the changing of the leaves arrives and sprinkles the horizon and ground with colors deeper than you ever imagined possible.
Winter is anything but dreary at Newfound Lake. When the snows come, the lake takes on a silver sheen, mesmerizing in its beauty. Winter-inspired activities are all around, and you'll find yourself cross-country skiing, ice skating, and snowshoeing before you head home to a comforting evening in front of the fire. Children will delight in building snowmen, creating snow angels, constructing snow forts, and battling each other in snowball wars.
No matter what the season, Newfound Lake has something to offer you and your family, so pack your bags and come on over!
Things to do at Newfound Lake
Vacation Rentals
Fishing
Boating
Swimming
Beach
Canoeing
Kayaking
Picnicking
Hiking
Ice Skating
Cross-Country Skiing
Snowshoeing
Birding
State Park
Fish species found at Newfound Lake
Bass
Black Bass
Catfish
Crappie
Lake Trout
Smallmouth Bass
Trout
---
Newfound Lake Photo Gallery
Newfound Lake Statistics & Helpful Links
Spread the word! Share our Newfound Lake article with your fellow Lake Lubbers!