Lake Koshkonong, Wisconsin, USA
Lake Locations:
USA - Midwest - Wisconsin - Southern Savanna Region -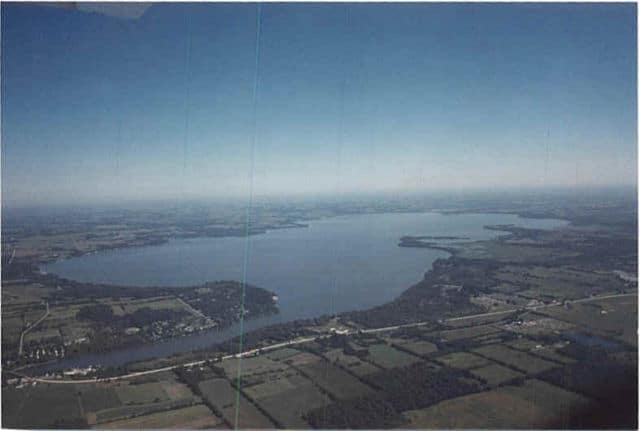 Sprawled across southern Wisconsin, just a few miles down the Rock River from Fort Atkinson, Lake Koshkonong is a fantastic place to boat and fish. The Southern Savanna Region lake has a rich history, plentiful wildlife and thousands of acres of beautiful water to draw visitors from all over.
Formed by the construction of the Indianford Dam in 1846, Lake Koshkonong is a large shallow lake with a maximum depth of only seven feet. It is an impoundment of the Rock River which makes up both the inflow and outflow of the lake. The lake stretches across parts of Dane, Jefferson, and Rock Counties in southern Wisconsin. Before the construction of the dam the area now covered by the lake was part of a very large rice field with water so shallow and rice so thick it looked more like a meadow than a lake. Accounts written at the time describe millions of ducks landing in the field to eat the rice, at times almost covering the sun and darkening the sky. Occasionally horses and their riders got turned around and even lost in the huge field.
Clouden and Luke Stoughton built Indianford Dam to operate a sawmill raising water levels and expanding the surface area of Lake Koshkonong to 10,460 acres. By the early 1900's higher water levels and invading hungry carp had killed most of the vegetation and rice. The wooden Indianford Dam was replaced with a concrete dam in 1917, and by 1929 it was owned by Wisconsin Power and Light Company who rebuilt it again in 1931. The dam generated power until 1961 when it became cost prohibitive to do so. In 1965 Wisconsin Power and Light Company transferred ownership of Indianford Dam to Rock County.
In 1974, there was an attempt by several Wisconsin power companies to build a nuclear power plant at Lake Koshkonong, but the proposal was denied because the lake is so shallow it was feared the plant would run out of water during drought years. Because three counties benefit from the lake, figuring out who was responsible for the dam became an issue and the dam suffered damage because of lack of maintenance. The Rock-Koshkonong Lake District (RKLD) was established and imbued with the power to levy taxes to protect and maintain Lake Koshkonong. The Wisconsin Department of Natural Resources controls the water levels on the lake and draws the water down slightly in the winter. The Rock-Koshkonong Lake District appealed to the Wisconsin DNR to raise lake levels seven inches and eliminate the winter draw down, but their request was denied. Proponents of the surrounding wetlands believe increasing the water levels would permanently damage surrounding wetland habitat and threaten the species of plants and animals that make it their home.
The Wisconsin DNR stocks Lake Koshkonong, and the lake is full of fish. There are healthy populations of perch, channel catfish, bluegill, crappie, largemouth bass, smallmouth bass and white bass. In the winter, anglers can ice fish, and the walleye are abundant. Even with its shallow depth the lake is a great place to boat, and there is plenty of room for power boats, pontoon boats and paddle boats along with sail boats and canoes. The lake is also popular with waterskiers and jet skiers.
Lake Koshkonong is named for Fort Koshkonong commanded by General Henry Atkinson during the Black Hawk War. Indian War Chief Black Hawk led the fight against the US Army for control of land in the Midwest. The fort lies in the present day town of Fort Atkinson. A visit to the reconstructed fort and charming town of Fort Atkinson is a great addition to a Lake Koshkonong getaway. Fort Atkinson has shops, restaurants, and various accommodations. For visitors who want to extend their stay, lakefront vacation rentals are available, and real estate is for sale in town and around the Lake Koshkonong shoreline.
Madison, Wisconsin's capital and home of the University of Wisconsin, is about a 30-minute drive northwest of Lake Koshkonong. The Olbrich Botanical Gardens, located in Madison near the shore of Lake Monona, features 16 acres of outdoor gardens for leisurely strolling. Olbrich features a rose garden, a sunken garden, and a Thai pavilion and garden. The Bolz Conservatory houses indoor and holiday displays, including exotic plants, orchids, birds, and a waterfall.
With several groups including the RKLD watching over the water quality of Lake Koshkonong, it is sure to delight visitors far into the future. There is something to please everyone on beautiful Lake Koshkonong.
Things to do at Lake Koshkonong
Vacation Rentals
Fishing
Boating
Sailing
Canoeing
Jet Skiing
Water Skiing
Horseback Riding
Waterfall
Wildlife Viewing
Birding
Fish species found at Lake Koshkonong
Bass
Black Bass
Bluegill
Carp
Catfish
Channel Catfish
Crappie
Largemouth Bass
Perch
Smallmouth Bass
Sunfish
Walleye
White Bass
---
Lake Koshkonong Photo Gallery
Lake Koshkonong Statistics & Helpful Links
At LakeLubbers.com, we strive to keep our information as accurate and up-to-date as possible, but if you've found something in this article that needs updating, we'd certainly love to hear from you!
Please let us know about it on our Content Correction form.
Spread the word! Share our Lake Koshkonong article with your fellow Lake Lubbers!