Lake Carnegie, New Jersey, USA
Also known as:  Carnegie Lake
Welcome to the ultimate guide for history, statistics, local fun facts and the best things to do at Lake Carnegie.
If you're considering Lake Carnegie vacation rentals, we've made it super easy to explore accommodations and nearby hotels using the interactive map below. Simply click on a listing to compare similar properties, best rates and availability for your dates. Or keep scrolling to read our Lake Carnegie guide!
Lake Carnegie visitor and community guide
Although steel magnate and philanthropist Andrew Carnegie is remembered for his library donations, one of his lesser-known gifts to society is Lake Carnegie, also known as Carnegie Lake. Constructed in the Delaware River area on Princeton University's southern end, Lake Carnegie was built to provide a practice lake for the famed Princeton rowing team.
A dam constructed on the Millstone River at the confluence of Stony Brook created Lake Carnegie in the low-lying swampy area of the Millstone Valley. This provided a fine body of water perfect for competitive rowing. Not only did this give the university a home practice area, it removed the teams from having to maneuver away from freight barges on the adjacent Delaware and Raritan (D&R) Canal. In the process, the City of Princeton gained a lovely lake, replete with fish, waterfowl and boating enjoyment. Since 1906, the lake has been enjoyed by all.
The western shoreline holds a number of historic features such as the picturesque Princeton Boat House. Also located on the western shoreline are luxury homes on large wooded lots that are in high demand when they come up for sale. A membership-only club, the Carnegie Lake Rowing Association, offers sculling lessons and boat access to its membership. The club hosts several rowing events during the year including the annual Carnegie Lake regatta. Small sailboats are often seen sailing the three-mile-long lake. And surprisingly, bald eagles have been sighted here regularly in recent years. The lake itself is a part of the Lake Carnegie Historic District and has been used in past years for Olympic rowing trials.
Privately owned, Carnegie Lake is open to public assess for fishing, boating and enjoying the picturesque views. Private gasoline-powered boats are prohibited on the lake, as is swimming. Only the old D & R Towpath separates the lake from the D & R Canal. The lake is only 800 feet across at its widest point, so fishing from the bank is attractive to many who combine their fishing expedition with a hike along the towpath to reach a favored spot. Most of the eastern shore nearly lies within the Delaware and Raritan Canal State Park that meanders along 70 miles of the main canal and the feeder canal. The 68-mile towpath trail welcomes walkers, horseback riders, mountain bikers and the wheelchair-bound to enjoy the shaded pathway along the inviting watercourse. Mountain bikes may be rented in the area, and some of the parking lots have room for horse trailers. Camping is available only at Bull's Island on the feeder canal next to the Delaware River close to Washington Crossing State Park.
Several authorized boat launch sites are available at Lake Carnegie, some with picnic facilities and restrooms. Although private boats are welcome, many take advantage of canoe and kayak rentals located at Princeton Turning Basin Park. The short portage from the Canal to the lake is easily accomplished. Paddlers must remember that rowing team craft always have the right-of-way and that these fast-moving boats cannot easily maneuver to avoid other water-users. Many fishermen take advantage of the rental canoes and kayaks to fish for largemouth bass, channel catfish, black crappie, yellow perch, chain pickerel, sunfish, northern pike and carp. Occasionally anglers may be rewarded with a rainbow trout or a brown trout that makes its way into the lake from Stony Brook. A New Jersey fishing license is required, and all fishing regulations apply.
Due to the shallow depths of Lake Carnegie and the growth of cities upstream, the lake's water has been found to be impaired in years past. Several community groups have taken on the chore of cleaning up areas around the lakeshore and monitoring water quality. The lake has been dredged three times in its 100-year history. The last dredging in 1971 gave the lake a uniform depth of 9 feet at 35 feet out from shore. Efforts were put in place to minimize silting coming from the Stony Brook watershed, and upstream cities have upgraded their treatment facilities. The lake is now cleaner than it has been in many years and also more easily navigated. There is still a mercury hazard warning on over-consumption of fish from the lake, but most other concerns have been alleviated.
The Carnegie Lake area is an excellent spot for history buffs to take a break from their historic touring of the area. Just south of the lake is the site of the Battle of Princeton and one of General Washington's great successes. The Princeton Battlefield State Park includes the Clarke House Museum and a stone patio commemorating the graves of 21 British and 15 American soldiers killed here. The Clarke House Museum is a restored farmhouse that played a part in the battle and is furnished in Revolutionary-era artifacts and military exhibits. The park contains many walking trails and self-guided tours.
A few miles away from Lake Carnegie, Washington Crossing State Park is the location where Washington's troops crossed the Delaware on Christmas night, 1776. The famous crossing, depicted in a painting seen on most classroom walls in years past, occurred during a major winter storm when the enemy didn't expect any movement. The ragged troops surprised the Hessian troops left to defend Trenton and 900 of them surrendered, invigorating the dispirited Colonial militias.
The historic park is well-known for the many walking trails and abundance of wildlife found there. A wide variety of migrating birds join the resident fox, whitetail deer, raccoon, red-tailed hawk, screech owl, great-horned owl and red-shouldered hawk that live here. In winter the trails are popular for cross-country skiing. The Visitor's Center is open year-round and holds many exhibits depicting Washington's military campaign in the area. The Swan Historical Foundation's collections at the Visitors Center are considered some of the best of their type. In summer the Washington Crossing Open Air Theatre presents performances, often of a historical nature. Johnson Ferry House offers living history demonstrations on weekends.
Both Princeton and nearby Trenton hold a number of excellent museums and performing arts venues. Trenton in particular is caretaker to many Revolutionary War sites of importance, including the Old Barracks Museum. The capital city of New Jersey, Trenton holds many major offices and an exciting array of nightlife and fine dining. Princeton contains several famed venues for the performing arts and the scenic campus of Princeton University. Major hotel chains in the area provide lodgings, as do numerous bed & breakfasts, small inns and guest houses. Real estate is always available, although perhaps not with direct access to Carnegie Lake. Easy rail access to both New York and Philadelphia make Princeton and Trenton the ideal spots for East Coast living and vacations. So bring the kids, the hiking boots and the history maps and partake of the scenic pathways along Carnegie Lake and its historic surroundings. Make your own memories here as so many famous historical figures have done.
Custom Lake Carnegie house decor
Read our full review of these personalized lake house signs.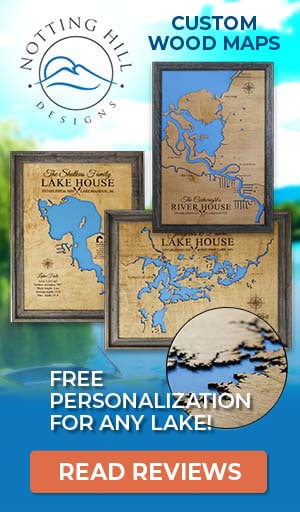 Things to do at Lake Carnegie
Vacation Rentals
Fishing
Boating
Sailing
Canoeing
Kayaking
Picnicking
Hiking
Cross-Country Skiing
Horseback Riding
Wildlife Viewing
Birding
State Park
Museum
Fish species found at Lake Carnegie
Bass
Black Bass
Black Crappie
Brown Trout
Carp
Catfish
Chain Pickerel
Channel Catfish
Crappie
Largemouth Bass
Northern Pike
Perch
Pickerel
Pike
Rainbow Trout
Sunfish
Trout
Yellow Perch
---
Best hotels and vacation rentals at Lake Carnegie
The Lake Carnegie map shown above is a simple and stress-free way to search for trip accommodations. But if you want to take a deeper dive to find the ideal waterfront home, cabin, condo, hotel or resort, visit our favorite lodging partners by clicking the buttons below.
Note: These are affiliate links so we may earn a small commission if you book through them. While there is no extra cost to you, it helps provide resources to keep our site running (thank you)! You can read our full disclosure policy here.
---
Lake Carnegie photo gallery
New photos coming soon!
Lake Carnegie statistics & helpful links
We strive to keep the information on LakeLubbers as accurate as possible. However, if you've found something in this article that needs updating, we'd certainly love to hear from you! Please fill out our Content Correction form.
Advertise your Lake Carnegie vacation rental
LakeLubbers will soon offer homeowners and property managers the opportunity to to showcase their vacation rentals to the thousands of lake lovers searching our site daily for accommodations. If you'd like additional details, please contact our advertising team here.
Looking for the Lake Carnegie forum?
LakeLubbers previously offered visitors the ability to create accounts and participate in lake forums. When we overhauled the site's content management system in 2021 we had to disable those features. We're evaluating options and welcome your comments and feedback here.
We also encourage you to join our lake-lovin' community on Facebook and Instagram!
Spread the word! Share our Lake Carnegie article with your fellow Lake Lubbers!